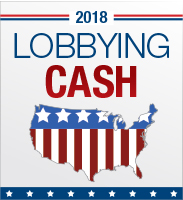 Lighting San Diego's homes. Moving electricity around California and Texas. Sending natural gas through pipelines. Building infrastructure to export liquefied natural gas to foreign ports. Those are only part of what Sempra Energy does to stay in business.
The $11.2 billion corporation also communicates and works closely with government at several levels. Lobbyists do a lot of the legwork.
Data from the Center for Responsive Politics show Sempra (NYSE: SRE) spent roughly $1 million on lobbyists at the federal level in 2010 and increased that sum steadily in the years that followed. Expenditures peaked at roughly $2.4 million in 2016.
In 2017, expenditures fell to about $2 million. As of mid-October, expenses for 2018 were $1.72 million.
"Anyone heavily regulated by the government is going to lobby," said Gary Jacobson, professor emeritus of political science at UC San Diego. Such lobbying is "not necessarily nefarious," he said. Jacobson said his employer, the University of California, has lobbyists in Washington, D.C., that consult with the government on a variety of issues. UC San Diego and its sister campuses receive a variety of federal funds.
Government Decisions
"Every part of an energy company's bottom line is tied to government decisions," said Thad Kousser, chair of the political science department at UC San Diego. "Of course [corporations] want to be at the table."
Sempra Energy meets Jacobson's definition of an entity that operates in a heavily regulated environment. Federal and state bodies have a big say about what Sempra can and cannot do — and by extension, how it can make money.
"At Sempra Energy, we believe that public policy engagement is an important and appropriate role for companies, and we comply with all aspects of applicable political laws and reporting obligations," said Sempra spokeswoman Amber Albrecht.
The Company's Perspective
"We track hundreds of proposed laws, rules, regulations and policies annually and engage at the federal, state and local levels of government to ensure that the perspectives of our company, our shareholders, our customers and our employees are represented before lawmakers and regulators."
Federal reports reproduced on the Center for Responsive Politics' Open Secrets website show Sempra lobbied regarding 24 bills in 2018. The company showed particular interest in the Tax Cuts and Jobs Act. It also lobbied on the Wildfire Prevention Act, the Electric Reliability and Forest Protection Act, the Pipeline and LNG Facility Cybersecurity Preparedness Act, the Commodity End-User Relief Act, the Enhancing Grid Security Through Public-Private Partnerships Act and the Securing Energy Infrastructure Act.
During the first quarter of 2018, seven Sempra representatives had conversations with government leaders about:
Lobbying Report
• General energy issues including natural gas exports, natural gas storage and pipeline safety,
• Implementation of the Tax Cuts and Jobs Act as well as issues related to international tax reform and tax extenders,
• Issues related to the NAFTA, the North American Free Trade Act, and issues related to international trade, and
• Issues related to pipeline rights of way.
The subjects were spelled out in a lobbying report submitted by the corporation to the Senate.
So far in 2018, electric utilities have spent $91.7 million in lobbying federal officials.
With $1.72 million spent, Sempra isn't even in the top 10 spenders. The Southern Co. of Atlanta was the leader, spending slightly more than $9 million on lobbyists. Second in line was San Francisco-based Pacific Gas & Electric Corp., with $8.9 million spent.
Campaign Cash
Sempra also made campaign contributions during the 2018 campaign cycle. Such contributions totaled $558,000.
Organizations affiliated with Sempra (and a few individuals affiliated with the company) made $404,800 in contributions to individual candidates.
The top recipient was Sen. Mitch McConnell, the Republican from Tennessee and Senate majority leader, who received $17,000. Ten House members received $10,000 donations.