When Matt Woempner wanted a change in career from the high-tech world a few years ago, he didn't turn to his financial advisor. Instead, he tapped a couple of buddies from his soccer team for guidance.
One of his team members, who had invested in a number of breweries, advised him to look into the mobile canning business. The 55-year-old Woempner
did just that. Inspired by his love of beer and his background in engineering, he decided to switch gears and in 2013, he converted some stock options to equity, moved from Thornton, Colorado, to San Diego with his wife and the younger of his two children and launched Mobile West Canning SD LLC.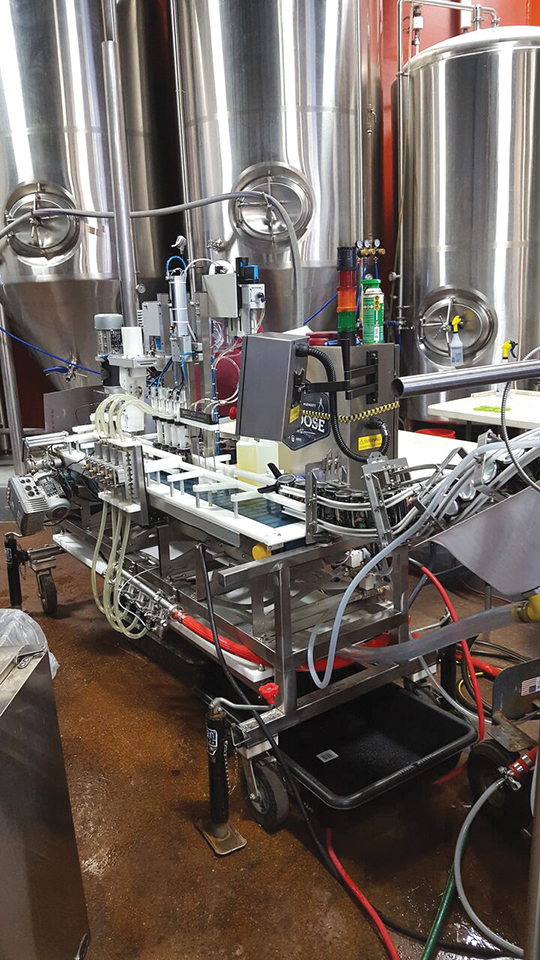 Owner and manager: Matt Woempner
Revenue: $1.3 million in 2017
No. of Local Employees: 13
Headquarters: Poway
Year Founded: 2013
Company Description: A mobile canning company
"I decided if I was going to work hard, I needed to work hard for myself," said Woempner, who graduated from the Air Force Academy and admits he had no experience in the canning industry other than a week's worth of classes he paid for at a local brewery before relocating. "The operation looked interesting, the beer community in San Diego is awesome, and so I asked myself, 'Can I do this?' And the answer was, 'yes.'"
Five years later, with clients like Stone Brewing, Green Flash Brewing Co., Belching Beaver Brewery, The Lost Abbey Brewing Co., Saint Archer Brewing Co., Mikkeller Brewing and AleSmith Brewing Co., among a long list of other well-known San Diego breweries and canned beverage companies on its roster, Mobile West Canning continues to grow.
Going to the Breweries
Mobile West Canning takes one of its five trucks — equipped with a full canning line that sanitizes, fills and adds lids to cans — to remote contracted breweries that don't have their own canning capabilities. The business temporarily installs a canning line at the location for a couple of hours, connects that brewery's kegs to the line and handles the canning production for it. The company can provide the cans, which it gets from vendors.
The Revenue
In its first full-year of business, the company's revenue was $100,000; in 2015, it made $300,000. In 2016, Mobile West Canning more than doubled its revenue with $700,000 and in 2017 the company broke the seven-figure mark with $1.3 million in revenue. Mobile West Canning has five canning lines and averages a total of 20,000 to 30,000 cases a month. Additionally, the company services not only San Diego, but also Nevada and Arizona, with a small brick-and-mortar canning facility in the latter state at as well.
Woempner credits the success of Mobile West Canning, headquartered in Poway with a total of 13 employees, to the quality of its work and the integrity put in every order. And although he projects 2018 won't see much growth in revenue due to the current lack of supply of cans, he believes 2019 will see double digit growth, in large part due to a new offering from Mobile West Canning: can sleeves.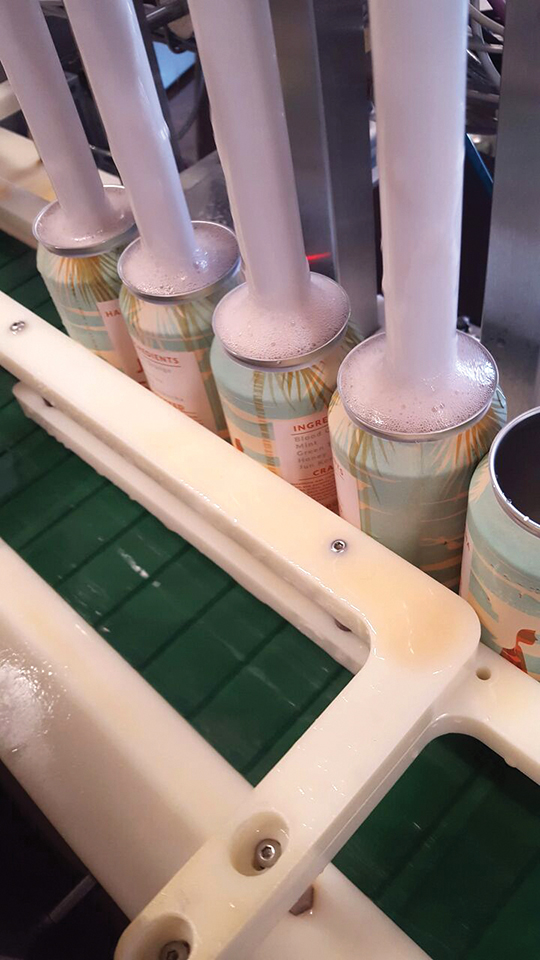 Sleeves Service
"Right now, we offer pressure-sensitive labels, or in-line labeling, but starting November of this year, we will launch a sleeves service as well," said Woempner, adding that usually breweries hire an outside company to handle that, but Mobile West Canning will be able to provide canning and two forms of labeling starting later this year. The sleeve method of labeling is one that requires a sleeve to be inserted from the bottom of the can, hugging the can all the way to the lid to look more like a painted-on label than a sticker.
"The slow-down is as a result of the classic supply and demand story; the can providers are inundated with orders and they are serving big customers like Coke and Pepsi and Budweiser. We are less than one percent of (the can making companies') business, so, we have to fight for what is left over. But, according to my projections, by month six of the sleeves business we should see a profit and it all might even out," he said.
Good Timing
Jill Davidson, president of the San Diego Brewers Guild, says Mobile West Canning hit the San Diego scene right at the time the West Coast was transitioning to more cans and less bottles, hence its success.
"We were up against the stigma that cans meant lesser quality liquid, which couldn't be farther from the truth," said Davidson, who is also sales and brand development manager at Pizza Port Brewing Co. "In the last couple of years, lots of changes occurred in the canning technology that helped control light and oxygen and people started to understand that the technology had evolved. That happened right around the time the boom of the breweries started. As a result, more people are going directly to canning lines these days."