Owners/ Co-founders:
Mike and Lisa Hinkley
Founded: 2002
Headquarters: San Diego (Mira Mesa)
Employees: Approximately 250
Revenue: Not disclosed
Production: 91,040 barrels in 2016
Company description: Craft beer producer and distributor, with operations in San Diego, Poway and Virginia. Plans to open new brewing and restaurant facilities in Lincoln, Nebraska by year's end.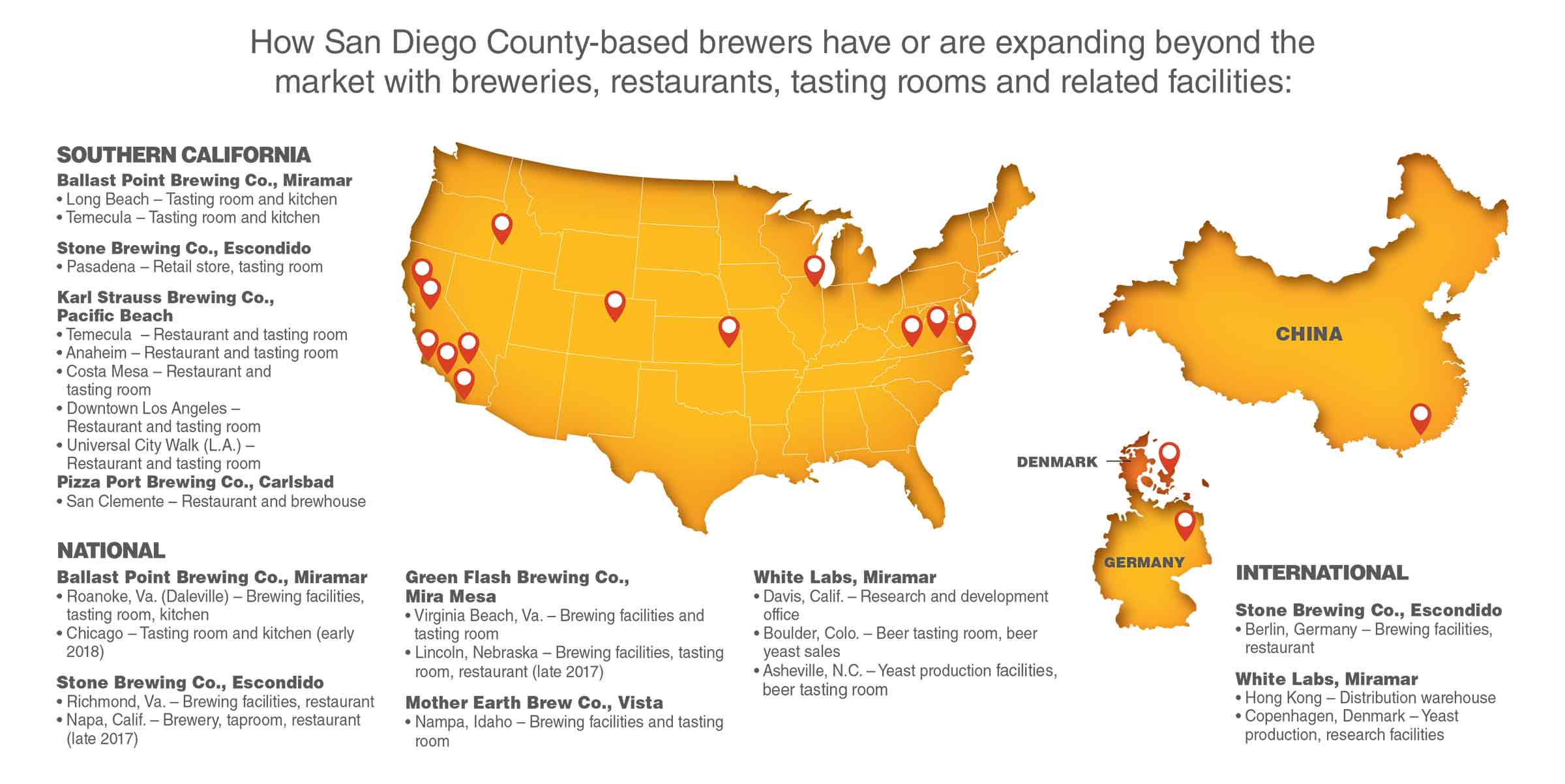 For about the past year, Mike Hinkley had been carefully researching Nebraska and other potential Midwest expansion options for Green Flash Brewing Co., the Mira Mesa company he co-founded in 2002 with wife Lisa.
His timetable sped up considerably about six weeks ago, when his contacts on the ground informed him that Ploughshare Brewing Co., in Nebraska's capital city of Lincoln, was shutting down. This meant Ploughshare's 10,000-square-foot production space, along with some nearly pristine equipment that had barely been used over the past three years, would soon be going on the market. And there would likely be numerous potential bidders.
Green Flash's recent announcement of plans to open a new production facility, tasting room and restaurant at that Lincoln site by the end of this year — after acquiring it for an undisclosed price — followed the required due diligence. But Hinkley said he and his fellow executives still had to push their efforts into overdrive to get the deal done as of mid-August.
"We had to act fast," Hinkley said. "We already had done some homework on Nebraska and the Midwest, but we did have to focus and find out more. We spent a couple of weeks just talking to people around Lincoln, getting to know the customers and getting to know the market."
Expanding Market Access
After last year's opening of new East Coast production facilities in Virginia Beach, Va., which have already helped shave significant time and costs from Green Flash's beer deliveries to cities from Boston to Miami, Hinkley said he began focusing on the Midwest as the next potential regional hub for similar efficiencies and market access.
Hinkley described the Lincoln facilities, capable of producing 10,000 barrels annually, as "nearly turnkey." That means Green Flash will save considerable time and preparation work in gearing up to produce and distribute several of his company's beers — including the flagship West Coast IPA — as well as those of Alpine Beer Co., the East County brewer that Green Flash acquired in 2014.
The Nebraska operation will also mark the first Green Flash facility with a full-scale restaurant, although the company previously inherited a smaller eatery in the Alpine acquisition.
Early-Stage Scene
In Nebraska, Green Flash is looking to enter a growing but still early-stage craft beer scene, with most of the local craft players concentrated in the eastern population centers of Omaha and Lincoln. Several national craft players, including Escondido-based Stone Brewing Co., have established significant distribution networks in the state, but so far don't have a physical presence there.
Green Flash is also following a national and global growth playbook, deployed by some of its bigger competitors in the San Diego market. Those include Stone Brewing, which has opened East Coast production and restaurant facilities in Richmond, Va., along with similar-sized European operations in Berlin, Germany; and Miramar-based Ballast Point Brewing Co., which has opened new East Coast operations in suburban Roanoke, Va., and more recently announced plans to target the Midwest itself with a new Chicago tasting room and kitchen, set to open in early 2018.
Much of Green Flash's recent activity stems from its growth into what is now the third-largest of more than 100 beer-makers based in San Diego County, employing about 250 nationwide. According to the Brewers Association trade group, it is now the nation's 37th largest craft beer brewer and the 46th largest beer-maker overall based on 2016 sales volume of more than 91,000 barrels.
San Diego Moves
While Green Flash tends to national expansion priorities, it isn't finished growing in the San Diego region. Hinkley said the company, in the next year or so, will be focused on moving much of its current distribution operations out of its main brewing facility in Mira Mesa, where it is running out of space amid rising demand for its beers, now distributed in all 50 states and several international markets.
Green Flash will be scouting locations — likely along the Interstate 15 or 805 corridor, in places such as Mira Mesa, Miramar, Sorrento Mesa and Sorrento Valley — where it can establish a distribution facility of 15,000 to 20,000 square feet, and still be no more than 20 minutes from the flagship brewing plant. (The company also has a Poway facility, called Cellar 3, dedicated to the production and tasting of its barrel-aged beers.)
At a time when craft beer sales nationwide are seeing slowing growth rates, and some smaller companies are gradually being acquired if they haven't fallen by the wayside, Hinkley said Green Flash will continue to carefully scout acquisition opportunities.
Those could involve companies or just facilities and equipment, in San Diego County and other U.S. regions where Green Flash might be able to fill a geographic or product niche not currently being served.
The Nebraska Craft Brewers Guild has approximately 50 member companies statewide, the bulk of them clustered in the southeastern region. The guild reports that in-state sales of craft beer rose from about 500,000 gallons in 2010, to 1.25 million gallons in 2016.
Hinkley said his company has an opportunity to tap a market that is relatively young in terms of its industry growth. There is a chance to reach younger consumers in college towns such as Lincoln, home to the University of Nebraska, and others statewide where thousands gather in bars to cheer their Big 10 football Cornhuskers but may not yet have pledged loyalty to other craft or macro beer brands.
"There's still plenty of white space on the map," Hinkley said of Green Flash's potential future U.S. growth prospects. "We know there are lots of places where craft might not be big right now, but it's probably going to be much bigger 10 years from now. We can be in those places in the early stages."