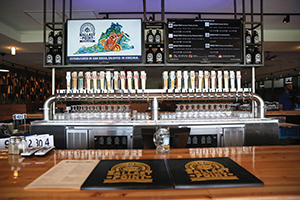 President: Marty Birkel
Founded: 1996
Headquarters: San Diego (Miramar)
Employees: Approximately 750
Company description: Producer of several beers including the flagship Sculpin IPA, and operator of seven brewpubs and tasting rooms in Southern California and Virginia. New Chicago tasting room and kitchen slated for 2018 opening.
Industry status: Largest beer-maker headquartered in San Diego County and 13th largest in U.S. based on 2016 production volume of 375,000 barrels, up from 277,152 in 2015, according to the Brewers Association trade group.
Already the largest San Diego-based beer-maker — and now the 13th biggest in the U.S. based on 2016 production volume — Ballast Point Brewing Co. has been ramping up its new East Coast production facilities in Virginia. The company in June opened a tasting room in suburban Roanoke, where the brewer has invested nearly $50 million in its newest operations.
Acquired in 2015 by Constellation Brands in a deal reportedly valued at $1 billion, Ballast Point also recently announced that it is stretching its presence to Chicago, where it will open a tasting room and kitchen early next year as its first Midwest location.
The San Diego Business Journal recently asked leaders of the 21-year-old company about its growth ambitions, and how life has changed for the brewer now that it is part of a larger macro-brewing company (and no longer led by the team that included founder Jack White, who left the company last year to start a new Miramar-based craft spirits maker called Cutwater Spirits).
Here are written responses to our questions from Ballast Point President Marty Birkel. Birkel headed up global sales for Constellation's wine and spirits division before joining Ballast and also held executive sales roles in its beer division.
What's the significance of the Chicago location, in terms of staking a presence in the Midwest? Had Ballast Point been eyeing the Midwest for a while?
Chicago is one of our key markets outside of California, and we have an opportunity to build on the customer base we've built there. We're thrilled to bring the San Diego spirit of Ballast Point to such a great beer-drinking city like Chicago. The entire team is looking forward to sharing some of our new innovations and passion for great beer and food with Chicagoans.
What other domestic or international regions are on Ballast Point's radar screen in terms of expansion priorities?
We are continually working to expand our distribution — our beer is now distributed in 49 states (on the way to 50) and 17 countries. To help support our growing distribution footprint, we are putting the finishing touches on our East Coast production brewery in Daleville, Va., and we have opened a tasting room and kitchen there, much in the model of our Miramar location.

What's the status of operations in Virginia? How many will be employed there, and will operations in Virginia mean changes for your San Diego operations?
Our tasting room is up and running in Virginia, and our brewery there is close to being fully operational. We have made a commitment to provide 178 full-time jobs in brewing, production, and tasting room operations over the next several years.
All of our San Diego locations will continue to operate as they have been, and in fact, we are investing in expanding our brewing capabilities in San Diego. We have built out our Trade Street brewing facility next door to our Miramar brewery, which will be a dedicated sour production brewery as well as housing our growing barrel-aging cellar. Our focus there will be on production and packaging of sour and barrel-aged beers for distribution.
The first packaged product released out of that facility is our Sour Wench Blackberry Ale (6-pack bottles), which is just now hitting local distribution in San Diego.
Is any further expansion (breweries, restaurants, tasting rooms, etc.) planned in the San Diego region?
San Diego is our birthplace and our home market, and it is important to us that we continue to invest here in our brewing operations and the experiences we can offer customers. In addition to our new Trade Street brewery, we have invested in new offerings in several of our current locations. Home Brew Mart (our original location out of which Ballast Point was born) is celebrating its 25th anniversary this year and we recently opened a new education center and 1-barrel brewing system to host home brew classes and events.
We are in the process of building out a pizza kitchen at our Scripps Ranch location, another of our original tasting rooms. And our Little Italy location now features a restaurant-within-a-restaurant called The Kettle Room, which is a pretty unique, culinary-driven experience within the R&D brewery.
One other exciting note related to Home Brew Mart's 25th Anniversary: we are marking the occasion with a party (Sept. 24) as well as our "Family Reunion" series of beer collaborations — collaborations with brewery owners and head brewers at several other local breweries who were once Ballast Point brewers or Home Brew Mart employees who have since moved on to run their own breweries.

What does it mean to have the clout of Constellation Brands behind a brand like Ballast Point, in terms of opportunities to expand the physical and distribution footprint? What do you see as the biggest challenges ahead for your business and/or the beer industry as a whole?
Constellation Brands is committed to driving growth for Ballast Point, further strengthening our overall leadership position in the high-end, which is the fastest-growing and most profitable segment of the U.S. beer market. The category is stabilizing after several years of double-digit growth, but craft beer continues to be a strong contributor to overall beer industry growth and high-end growth. One in four dollars spent on beer is spent on craft beer.
We have integrated key functions to more fully leverage Ballast Point's expertise with that of the broader Constellation Beer division capabilities and infrastructure. We're focused on investing in the long-term growth and health of the Ballast Point brand to build on a strong base and create demand with new consumers.