Co-founders: Christopher Lynch and Michael Samer
Revenues: On track for $3 million to $5 million in 2018, 30 percent year-over-year growth
Headquarters: La Jolla
Year founded: 2010
Company description: An apparel and ocean adventure company that attempts to sell the California Experience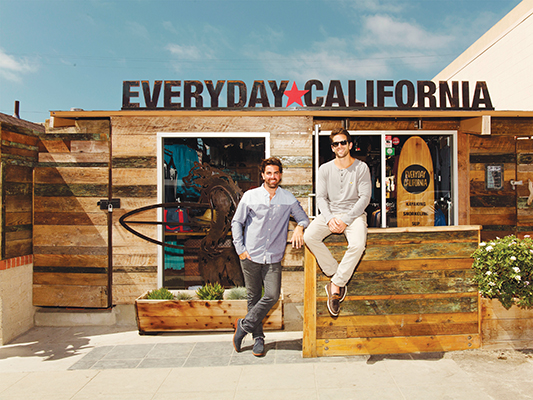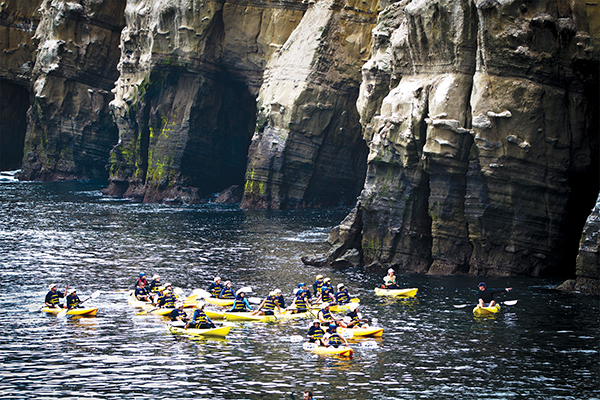 Fashion brands have always tried to harness the California lifestyle, but very few actually live it.  
Everyday California, a La Jolla-based brand, started as an ocean adventure and kayak tour business has blossomed into a full-blown lifestyle apparel brand.
While the company is starting to have global reach in apparel and says it takes 50,000 to 60,000 people out on the water every year, to say it started modestly is an understatement.
Co-founders Michael Samer and Christopher Lynch took over ownership in 2010 of OEX Dive & Kayak, in La Jolla Shores, where they both worked and gave kayak tours themselves. The founders purchased the permits from OEX and the company initially operated with four employees out of a pickup truck.
Rebranded the Company
"It all started from an experience centered around the La Jolla Cove and the La Jolla Ecological Reserve," said Lynch.
"We were able to rebrand the company to Everyday California and created a brand around the tours and rentals, all the ocean activities, and started making apparel on top of that," he said.
The apparel side of the business started with just one T-shirt offering for men and women. Everyday California has since opened its flagship 2,300 square foot location in La Jolla in 2016. Lynch says the launch of its apparel line was built out of a genuine Californian experience of being out on the water.
The apparel business is built upon the adventure experience on which the company was founded, which Lynch says is huge for millennials who want to get out and actually have an experience. The apparel side started as a way to commemorate that experience.
"We wanted to share our lifestyle and our dream and we did that by building an apparel line," he said.
The company says it is on track to see $3 million to $5 million in revenue in 2018 with revenues growing 30 percent year-over-year.  
Licensing Deal
Everyday California has successfully leveraged its authentic California image into a global brand, after signing a licensing apparel deal in 2015 with Sherman Oaks-based Cherokee Brands to take over its wholesale business and grow it internationally.
Building a brand within the highly competitive apparel space has not been without challenges, says Lynch.
"Apparel is not an easy business to be in — there are a ton of stock keeping units and other inventory issues. For every product you create, for instance, you can have six different sizes in three different colors. And, we have numerous manufacturers from USA, Mexico, China and Brazil, so there are a lot of people to coordinate with," he said.
Branching Out
Everyday California continues to grow its footprint as a lifestyle brand, creating its own skin-care line, and even launching its own beer in a partnership with Resident Brewing Co., aptly named Everyday California IPA.
The company says its apparel business is growing faster, but it is still the adventure business that brings in a bigger portion of revenues.
San Diego State University professor of marketing Miro Copic says that Everyday California is selling a pristine, aspirational image of California but must manage its growth responsibly so it does not tarnish the brand.
"This is the quintessential organic startup brand which almost came as an accident. The real question becomes how do they grow this and does it have legs," Copic said.
"The fact that they still book the adventures makes it more genuine because they have a story of where they came from. At the least, it's very connected, but the question becomes how far can they extend before they overextend. So far they (are) staying pretty tight to a handful of things that align with their image of California," he said.
Goal Is a Sustainable Brand
Lynch reiterates that the brand's growth strategy has been mostly organic, saying that is what separates the brand from other businesses.
"We're not looking to blow up overnight, we're looking to be a sustainable brand and we are continuously profitable," he said.
Everyday California is staying true to its La Jolla roots and aims to spread an authentic image of an aspirational California lifestyle worldwide.
"La Jolla is an unbelievably unique place and we took it and captured it in a brand. For a visitor to come out to La Jolla and go out on the water, it would be something that would stick with you for a very long time," said Samer.