The following are selected defense contracts awarded to San Diego County companies in October and November. The U.S. Department of Defense releases a digest of contract awards daily at 5 p.m. Eastern Standard Time.
The U.S. Navy increased the overall amount of funding to repair certain surface ships in the Port of San Diego. Some $299 million in new funds will be split among three businesses, General Dynamics NASSCO, BAE Systems San Diego Ship Repair and Huntington Ingalls Industries (called by its old name, Continental Maritime, on the contract announcement issued by the Pentagon). The shipyards will now compete for delivery orders for individual Arleigh Burke-class destroyers as well as Ticonderoga-class cruisers. Work will take in several types of ship maintenance periods, called "availabilities" in Navy parlance. These include complex emergent and continuous maintenance, repair, modernization and Chief of Naval Operations availabilities. The new award brings the cumulative amount of funds set aside for ship repair under the three shipyards' contracts to $838.5 million. The Naval Sea Systems Command of Washington, D.C. awarded the contract, announced on Nov. 14.
Raytheon GPS Deal Could Grow Past $61.5M
The U.S. Navy awarded Raytheon Co.'s San Diego office an indefinite delivery, indefinite quantity contract that could be worth as much as $61.5 million over five years. The deal is for software support related to Global Positioning System-based Positioning, Navigation and Timing Service. The technology, abbreviated GPNTS, is used to receive, process and distribute three-dimensional position, velocity, acceleration, attitude, time and frequency in formats required by shipboard user systems. Software support will include development, integration and test of improvements, correction of deficiencies, preparation and delivery of engineering interim/final software builds and inputs for the GPNTS software requirements and configuration baseline. The Navy has options to continue the work for up to five more years, for a potential contract period of eight or 10 years. If the Navy exercises all of its options, the deal could be worth up to $100 million and last until November 2029. There were two bidders on the contract. The Naval Information Warfare Systems Command of San Diego awarded the deal, announced on Nov. 15.
Deal Has San Diego Aspect
Global Technical Systems of Virginia Beach, Virginia received a contract modification to sustain the Common Processing System for U.S. Navy ships. Approximately $13.5 million worth of work, or 16 percent of the total contract amount, will flow to San Diego. The deal covers production and installation of ordnance alteration kits, as well as associated engineering services, logistics and incidental materials in support of the Common Processing System. Ordnance alteration kits will be installed on Aegis destroyers, Aegis cruisers, Landing Helicopter Deck, Landing Ship Dock and aircraft carriers as well as Japanese destroyers. Work is expected to last through October 2020. The contract includes options that may increase the value of the deal and extend it to July 2024. The Naval Surface Warfare Center's Port Hueneme Division awarded the deal, announced on Oct. 31.
Raytheon to Support DDG 1000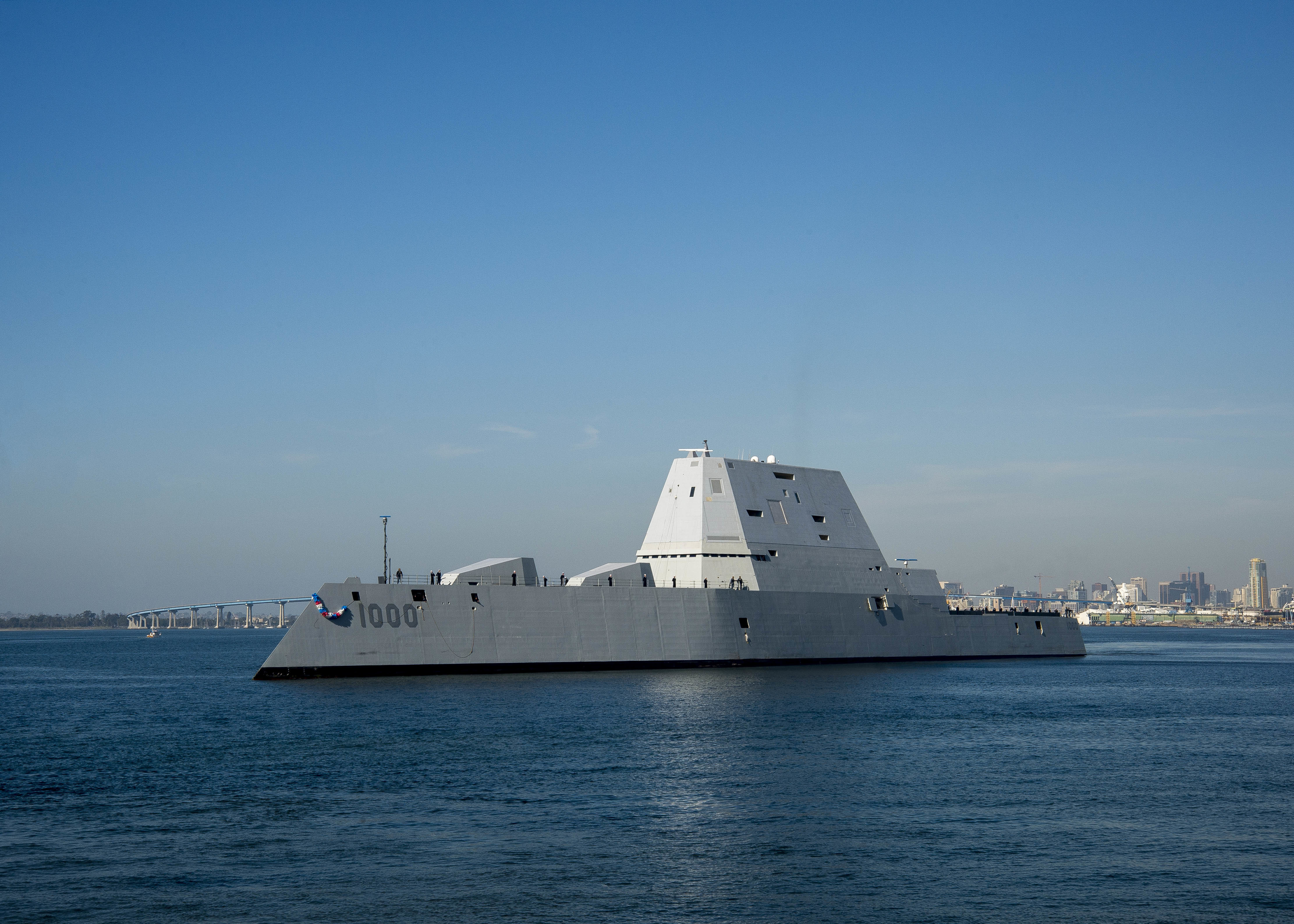 The U.S. Navy awarded Raytheon Co. an $11.5 million contract modification to provide logistics support and engineering services for the next-generation Zumwalt destroyer, also called the DDG 1000. Two of the destroyers have their home ports in San Diego. Raytheon is the prime systems integrator for the ship's electronic and combat systems. Eleven percent of the contract, with an estimated value of $1.25 million, will be spent in San Diego. Work is expected to be complete by October 2020. The Naval Sea Systems Command of Washington, D.C. awarded the contract, announced on Oct. 31.
Dyncorp Deals Flow to San Diego
The U.S. Navy awarded Dyncorp International LLC of Fort Worth, Texas a contract modification covering aircraft maintenance, modification and air crew support. Small portions of the deal — worth an estimated $500,000 each — will be performed at Naval Air Station North Island and Marine Corps Air Station Miramar.
The deal includes organizational-level aircraft maintenance and logistics support on aircraft, systems and subsystems, aircrew systems, search-and-rescue equipment and support equipment for the P-3 Orion, C-130 Hercules, F/A-18 Hornet, E/A-18 Growler, AV-8B Harrier II and H-60 Seahawk for the Naval Test Wing Pacific. The Naval Air Warfare Center at China Lake awarded the deal, announced Oct. 31.