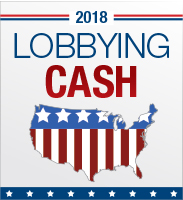 Samumed has yet to put a drug on the market, but the company wants the ear of osteoarthritis policymakers and advocacy groups.
This year, the San Diego company has spent $240,000 on federal lobbying, tied for the second most among San Diego life sciences firms. That's according to the Center for Responsive Politics, which posts contribution totals through its website Open Secrets.
Samumed's spending has equaled that of Heron Therapeutics. Of regional life sciences, diabetes monitoring company Dexcom put up the most lobbying cash so far this year: $520,000.
Lobbying totals listed in this article capture how much companies directly contributed, notably leaving out potential contributions to political action committees.
Osteoarthritis Interest
Samumed is developing a therapy for osteoarthritis, but found that elected officials, their staff and patient advocacy groups are focused on other arthritic conditions. Much of the company's lobbying went toward education, not necessarily a specific request, according to Arman Oruc, the company's chief legal officer.
Oruc said funds have also gone to broader issues like drug reimbursement and labeling. Samumed in August raised $438 million, bringing its announced total to $650 million for a pipeline of potential treatments. The company is valued at more than $12 billion.
While still a startup, Oruc said Samumed has a keen interest in the regulatory and reimbursement landscape.
"We're a small company with big ambitions," Oruc said.
Opioid Alternative
Heron Therapeutics has lobbied ahead of expected regulatory approval of its postoperative anesthetic, an alternative to opioids.
The company backed the extension of a payment to encourage hospital outpatient departments and ambulatory surgical centers to use non-addictive medications, which didn't make recently passed opioid legislation, according to the pharmaceutical publication Evaluate.com.
The publication stated, however, that the legislation would require federal officials to review — with a view to overturning — Medicare payment policies that encourage an over-reliance on
opioids at hospitals and surgery centers.
"In response to this call to action and the concerns expressed by both the White House and FDA, Heron is working on multiple initiatives with many agencies and advocates to drive change, lessen patient exposure to opioids and stop addiction before it starts," Heron said in a statement.
Paperwork shows Dexcom, which did not return a request to comment, is lobbying for coverage and reimbursement of its continuous glucose monitoring technology.
Dexcom this summer released its smartphone-linked G6 system, which alerts diabetes patients and caregivers in case of dangerous blood sugar levels.
Big Pharma Lobbying
Federal lobbying from San Diego biotechs pales in comparison to larger, out-of-town pharmaceuticals. New York-based Pfizer contributed $21.8 million in lobbying so far this year, the highest amount among individual drugmakers. The drug industry has increased spending over the last four years.
"President Trump has been at least talking about imposing new regulations and laws to rein in the price of drugs so that may be one reason they have increased spending. When a particular industry is threatened with change it is common to see an uptick in their lobby spending," said Dan Auble, a senior researcher with the Center for Responsive Politics.
Auble said drugmakers are seeking to influence the regulatory process, both before laws are passed and after.
"After legislation has been passed, the implementation is where the real fight sometimes comes down," Auble said.