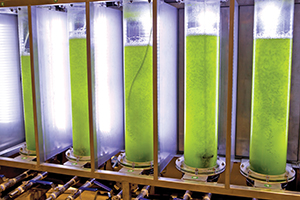 Those still rooting for the biofuel industry got a glimmer of hope June 12 when local firm Synthetic Genomics announced a potential breakthrough in how algae is produced for fuel.
Like corn or soy crops, the oil derived from algae can also be used to create fuel. But it's been tough for companies and researchers to produce an algae strain that grows quickly enough for commercial production.
Now, Synthetic Genomics, which has a long history researching alternative energy sources, reported that it's developed a synthetic strain of algae that has a much higher oil yield — a boon for several industries in the business of making products from algal oil. The company said its new strain boosts oil yield from 20 percent to more than 40 percent without hampering the strain's growth.
If at First You Don't Succeed…
The breakthrough was made in a research collaboration between Synthetic Genomics and the oil giant ExxonMobil — a deal that dates back to 2009, when the duo was bullish about the future of biofuel.
Back then, the companies announced a biofuel-focused partnership in which Exxon would invest $600 million in the San Diego company as long as Synthetic Genomics met certain milestones. The original deal was focused on researching naturally-occurring algae cells, not synthetic ones.
But that early collaboration ended in failure. The Exxon-funded research didn't produce the desired results and the research program was subsequently downgraded. As a result, Exxon changed the contract to focus on long-term research instead of commercial production, and Synthetic Genomics laid off more than half its biofuel staff at the time. In fact, around 2012 — following the research woes — the company's founder, J. Craig Venter, made a bold statement at an investor forum.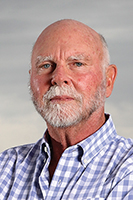 "It doesn't matter what the scientific breakthroughs are, there's no way to beat oil," he told the audience.
Biofuel Not Only Use For Algae
The local firm has since greatly diversified its focus, with a wide portfolio of applied products spanning health, nutrition, and bio-industrial chemicals. The research program on biofuel has continued to chug along in the background, however. In January, Exxon and Synthetic Genomics announced they were renewing their research deal on biofuel, this time allowing the local company to leverage new research in synthetic biology.
"Discoveries made through our partnership with ExxonMobil demonstrate how advanced cell engineering capabilities at Synthetic Genomics can unlock biology to optimize … solutions for many of today's sustainability challenges — from renewable energy to nutrition and human health," said Oliver Fetzer, CEO of Synthetic Genomics, in a statement.
Notice how Fetzer mentions nutrition and human health in a news release about a biofuel partnership and biofuel research. That's because it turns out algae production can be quite lucrative when used for nutritional products rather than fuel.
San Diego was once a mecca for algae-based biotech companies doing biofuel research, but most (if not all) of those companies have now diversified their product lines — or completely abandoned biofuel altogether — in pursuit of a more profitable pipeline. General Atomics, Cellana Inc., and Sapphire Energy all shifted their focus from clean energy to nutritional products in recent years.
Burning Fine Wine
So while the advancements in algal oil production might be good news for biofuel fans, its far more likely that those in the algae industry — including Synthetic Genomics will apply this scientific advancement to developing health and nutrition products.
Steve Mayfield, founder of Sapphire Energy and director of the California Center for Algae Biotechnology at the University of California, San Diego, told the Business Journal back in 2015 that the real money is in developing nutritional co-products such as Omega-3 oils and proteins. These products can be added to animal feed, human supplements and even baby formula.
"So you could sell a gallon of biofuel for $10, or you could sell a gallon of Omega 3 oils for $200," Mayfield said. "I guess you could still burn the oils if you really wanted to, but it would be like burning a fine wine for its ethanol. You would never do that."
Years of Research Still Needed
Although the revenue potential of other applications of algal oil appear to be higher, ExxonMobil said it's committed to advancing biofuel research. The oil giant has engaged in a wide range of research on advanced biofuels, partnering with universities, government laboratories, and other companies. Since 2000, Exxon has spent about $8 billion on lower-emission energy solutions, according to the company.
Still, both Exxon and Synthetic Genomics agreed that commercial application of their new research is still years from reaching the market.
"Advancements as potentially important as this require significant time and effort, as is the case with any research and development project," said Vijay Swarup, vice president for research and development at ExxonMobil Research and Engineering Co. "Each phase of our algae research, or any other similar project in the area of advanced biofuel, requires testing and anlaysis to confirm that we're proceeding down a path toward scale and commercial viability."