Typically an investor has a few decades of investment experience under his or her belt before getting an ocean-view office.
Not so at Triton Funds, a newly-minted investment fund run by Southern California college students in their 20s, backed by investors who believe insights from millennials will give them an edge in finding overlooked funding opportunities.
Its founders — UC San Diego juniors Nathan Yee and Yash Thukral and recent Cal State Northridge student Sam Yaffa, who plans to graduate in December — say they were spurred Sarahto launch the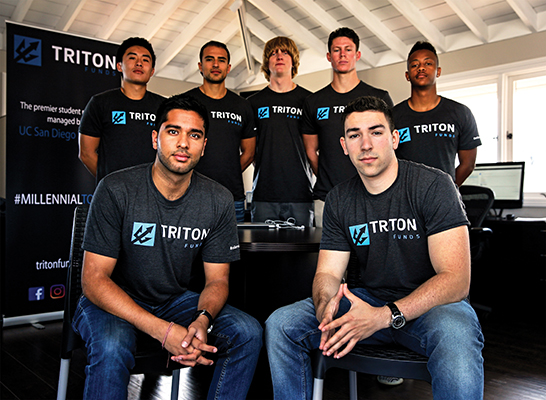 fund this spring by their interest in careers on Wall Street, and what they see as a lack of opportunities to follow that career path from public schools in Southern California.
They say backers, nearly all of whom the students said did not want to be identified, have given them access to $25 million to invest. Deals are vetted by a board of directors. The investors, the three men said, are local individuals, including a number of UCSD alumni.
The Deals
So far, the firm — based out of a second-story Prospect Street office in La Jolla – has made four deals.
In May, the fund led a $2 million seed financing for AtYourGate, an app that facilitates delivery of purchase from eateries and shops at San Diego International Airport for a $2.99 fee.
Thukral said the Triton Funds team learned about the startup through students and faculty who use the app when they travel.
Investments in startups won't be a primary focus of the fund, however, they said.
Most of its private investment will be in public companies, for two reasons: The transparency inherent in such transactions, and the potential for students to see an "exit," so to speak, during their time with the fund.
Also in May the fund announced it put $500,000 into Bravatek Solutions Inc., an Austin, Texas-based cybersecurity company.
The month prior the fund invested $1 million in DigitalTown Inc., which is creating blockchain-based platforms for municipalities.
And its first investment of $600,000 was in APT Systems Inc., which is developing mobile trading tools.
Economic Improvement
Each of the companies, with the exception of AtYourGate, trade over the counter.
Each have the potential to improve the economy millennials are slated to inherit, the Triton Funds team said, which is a factor in its investment decisions.
In addition to Triton Funds' three founders, about 10 other students have roles with the fund, for which UCSD will provide academic credit.
"We noticed that the 'top' finance jobs — that's your venture capital, your private equity and your investment banking jobs — the only people who get recruited to those jobs are people from private schools and the traditional back east schools," Yaffa said. "Our public schools, we're not getting those opportunities."
Mapping Journey to Wall Street
Triton Funds creates an opportunity for students at Southern California schools to gain that experience, he said.
"Wall Street is so dominated with this traditional style…we're really doing it our own millennial way," Yaffa said. "We've made up this phrase – 'millennial touch' – and everybody loves it."
He said the team gives input on a weekly call to each company into which it has invested.
Ben Esque, an Orange County-based investor in the fund, said he saw the opportunity to get involved as a unique opportunity to tap into the minds of up-and-coming investors, and perhaps profit from their ideas.
"For me, selfishly, they have a fresh perspective on things I may not be abreast of," he said. "Together, we can really do some good for the world and hopefully make some commas while we help some young guys out."
He declined to say how much he has invested.
Esque has been in health care — he's an enterprise account manager at Abiomed in San Diego – for more than 10 years, and is a member of the fund's scientific advisory board.
He said the strength of the network of board members and mentors vetting deals with the students convinced him to put his money into the fund.
He called the people who have put money into it a "pretty exclusive group of people," which allayed concerns that could stem from investing money in deals led by untested students.
Mentoring Role
"We have to be sold on the concept before any investments are made, and we're also going to be involved with the companies," he said. "It's nice to be able to work with and through bright talent, but it gives us the ability to mentor them through where the blind spots they might not see are."
When he was a college student, as a business major at UC Riverside, Esque said he would have appreciated a similar opportunity.
Dave Moylan, CEO of socially conscious investment firm Fairgreen Capital Partners, is among the fund's pool of mentors.
He said younger investors have the benefit of fewer experiences to cloud their lens on the investment world, which may lead to opportunities more experienced investors wouldn't have considered.
"They have the guardrail of experienced investors combined with the innovation of the millennial generation," Moylan said of Triton Funds.
It was that guidance that Yee and Thukral felt unable to access at UCSD, a research university known for its STEM focus, after pursuing activities related to their interests in finance. They felt its offerings fell short of what they would need to propel them toward their desired careers. Thukral and Yaffa are childhood friends.
"These big banks, they never come (to San Diego)," Yee said. Instead, the Triton Funds' founders thought: "Let's create our own opportunity."