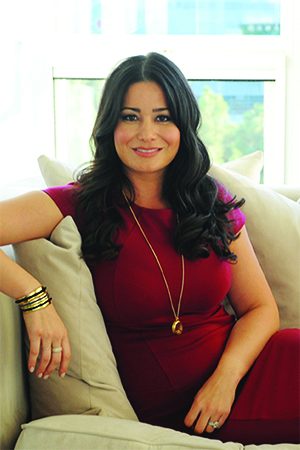 CEO: Shireen Thor
Revenue: $6 million in 2016; $2.5 million in 2015
Founded: 2015
Headquarters: San Diego
Startup capital: Self-funded
Company description: Functional jeweler specializing in bracelets that hold hair ties
Key factors for success: Products are protected by 11 patents, with four additional patents pending
Arni Thor designed the original bracelet as a Christmas present for his wife, Shireen. He had the bracelet engraved with Shireen's first and middle name spelled out in Farsi, her mother's native language. Because Arni doesn't speak Farsi, he used Google Translate for the engraving. Unfortunately, Farsi is read from right to left, not left to right, and Arni accidently flipped the engraving. The original bracelet reads "Maria Shireen" instead of "Shireen Maria."
Lots of young entrepreneurs are chasing ways to monetize software, but Shireen Thor proved that there's still plenty of money to be made in products.
In less than two years, Thor, 33, and her business Maria Shireen have generated $6 million in annual revenue by selling bracelets that hold hair ties. For 2017, the company is on track to bring in closer to $9 million, making Maria Shireen one of the fastest-growing startups on our radar.
The company makes a cuff bracelet that has a built-in channel to hold hair ties. The product addresses a problem that nearly all people with longer hair have: how to make hair ties immediately accessible while not being an eyesore. Many women wear hair ties around their wrists so they can tie up their hair on a moment's notice. It's great for utility, but not so great for style. Plus, depending on how small the hair tie is, it can cut off circulation in the wrist.
Shireen Thor's husband, an engineer named Arni Thor, noticed his wife's hair tie was always irritating her wrist. Like many women, she would take off the hair tie when it was bothering her, and then lose them in various places.
Being the "ever-observant engineer that he is," Shireen said Arni designed a bracelet for her that had a channel to hold her hair tie. He gave it to her as a gift. It not only held the hair tie away from her skin, but also transformed the plain black band into a charming accessory.
"I was shocked," Shireen said. "I was like, 'Wow, this is exactly what I need.'"
Friends and family starting asked Shireen where they could buy a similar bracelet, so the couple got to work launching a business around the product.
Product Development Background
Shireen and Arni are not new to bringing products to market. Both engineers, Shireen had been working in product development and marketing at medical device giant Ossur in San Diego. At the same firm, Arni worked in research and development.
"I would bring him problems, and he would solve them mechanically," Shireen said. "This product was no different."
The duo's background in product development gave them a leg up when it came to protecting the bracelet's intellectual property. Maria Shireen's bracelets are protected by 11 awarded patents, with four additional ones pending.
The patents came in rather handy when Maria Shireen's bracelets were featured on Huffington Post, generating $50,000 in sales the day the article posted and spurring over 200 copycats to spill onto the market.
Protecting IP
"Our IP was covered so well that we've been able to shut down the copycats with 99.9 percent success," Shireen said.
Martin Bridges, the entrepreneur-in-residence at Pillsbury Law Firm, said protecting IP can be hard on startups.
"Getting into IP protection isn't terribly expensive, but for a young company it's definitely a consideration financially speaking," Bridges said. "Every dollar counts to early-stage companies."
Meeting Retail Challenge
Shireen said shutting down copycats from online retailers such as Amazon or Etsy is relatively painless and cost-free. Going head to head with retailers, however, is another issue. Maria Shireen has had to pursue copy cats big and small, but Shireen said the effort has been more than worth it. In fact, the startup was able to leverage relationships with retailers that were originally set up by copycat jewelers. Maria Shireen products have been sold in Toys R Us, Hallmark, Ace Hardware, and Ulta Beauty, among other retail locations.
Leveraging copycat relationships has allowed the company to shift its sales from 20 percent retail to about 40 percent retail, Shireen said. The rest of the company's sales are online.
Maria Shireen sells the original luxury line of bracelets retailing for $45 to $85. Shireen also launched a mass market line under the company name My Hair Tie Bracelets, with products retailing for $25 and under.
The startup's bracelets have sold in more than 40 countries.