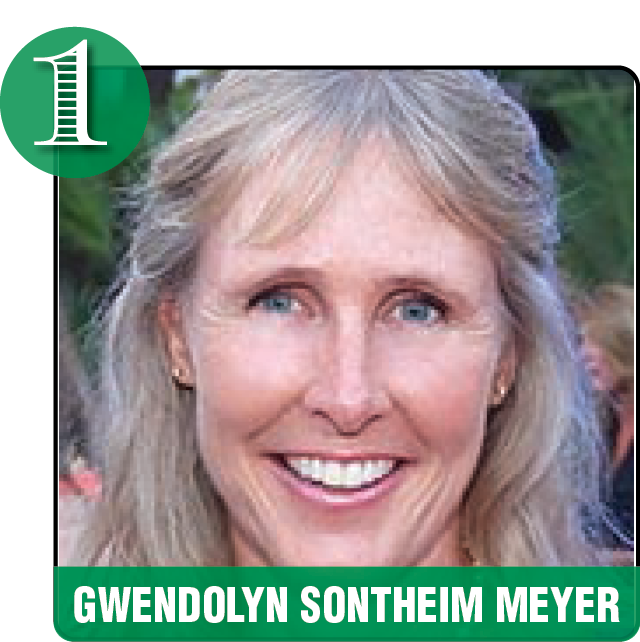 GWENDOLYN SONTHEIM MEYER
Position/Status: Philanthropist
Net Worth: $4.2 billion
Age: 58
Residence: Rancho Santa Fe
Source of Wealth: Heir to founders of Cargill Inc.
Once again, Gwendolyn Sontheim Meyer tops the San Diego Business Journal's annual list of the Wealthiest San Diegans.
Meyer gained her fortune by inheriting a 7% interest in Cargill Inc., the privately held, Minnesota-based corporate food giant.
Meyer keeps a low profile in the region, with the exception of her volunteer efforts with the Feeding San Diego foodbank.
She is chair of the board in the organization, which she co-founded in 2007.
Meyer is a fifth-generation family shareholder of Cargill, which is said to be the largest privately held company in the U.S.
She owns about 11 percent of the company, according to business news service Bloomberg. Her family still owns about 88 percent of the company, though none of her family members are active in the company.
Meyer was raised in Switzerland and attended Menlo College, a small private college in Silicon Valley, and San Diego State University.
She is an avid equestrian who has competed in show jumping competitions.
A licensed pilot, she has trained with a member of the US Navy's Blue Angels, which performs at airshows and other events around the world.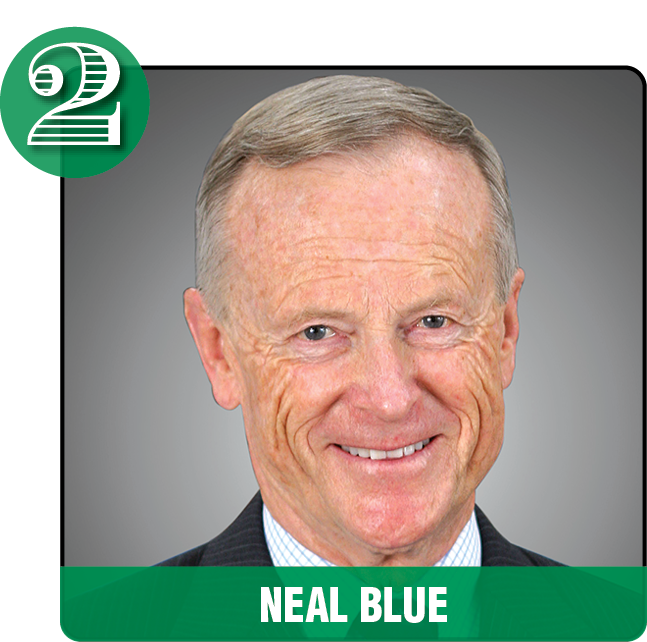 2. NEAL BLUE
Position/Status: Chairman & CEO, General Atomics
Net Worth: $4.1 billion
Age: 84
Residence: San Diego
Source of Wealth: General Atomics
Neal Blue is chairman and CEO of General Atomics, the largest privately held defense contractor in the U.S.
The business is best known for the Predator drone, one of the first drones to fly over Afghanistan after the terrorist attacks on Sept 11, 2001.
The company did more than $2.7 billion in sales this past year.
The road to great wealth began when Neal, with his brother, Linden, along with other family members, bought what was then a nuclear energy company from Chevron for a $60 million in the mid-1980s.
Blue is co-founder and chairman of Cordillera Corp., based in Denver, Colorado. Cordillera is a private company with investments in real estate, agriculture, natural gas distribution, and oil and gas production.
He is co-founder of the General Atomics Sciences Education Foundation, a board member of Yale University's Jackson Institute for Global Affairs, and a member of the Center for New American Security and the Atlantic Council advisory boards.
He is a former trustee of the Salk Institute for Biological Studies and the UC San Diego Foundation.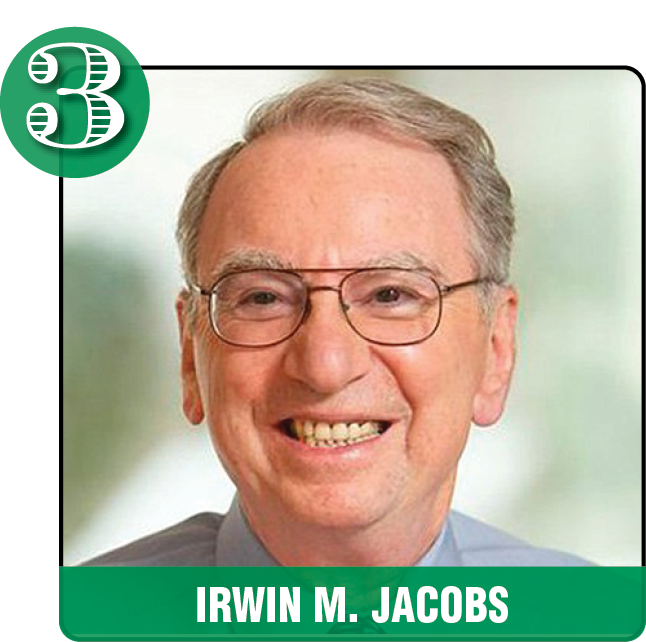 3. IRWIN M. JACOBS
Position/Status: Philanthropist
Net Worth: $1.7 billion
Age: 86
Residence: La Jolla
Source of Wealth: Co-founder of Qualcomm Inc.
Irwin Jacobs is one-time electrical engineer and university professor who rose to riches as co-founder, CEO and former chairman of mobile telecommunications giant Qualcomm Inc.
Earlier in his career, Jacobs had played a leading role in creating Qualcomm after having helped start Linkabit, which specialized in developing satellite technology.
Five years after its sale in 1980, Jacobs was one of the seven people who launched Qualcomm Inc., which is the largest publicly traded company in San Diego. The company rent reported $24.3 billion in revenues for the fiscal year 2019.
Jacobs was CEO until 2005 and served as chairman until 2009.
He and his wife Joan Jacobs are major benefactors of the arts and culture in the region.
Jacobs has pledged $120 million to the San Diego Symphony, a similar amount to the Jacobs School of Engineering at UC San Diego, $100 million for UCSD's Jacobs Medical Center and $20 million for the new Central Library in San Diego's East Village.
According to the Qualcomm website, "Jacobs has been recognized for his pioneering telecommunications work many times, with awards including the National Medal of Technology and the IEEE Medal of Honor, the organization's highest honor."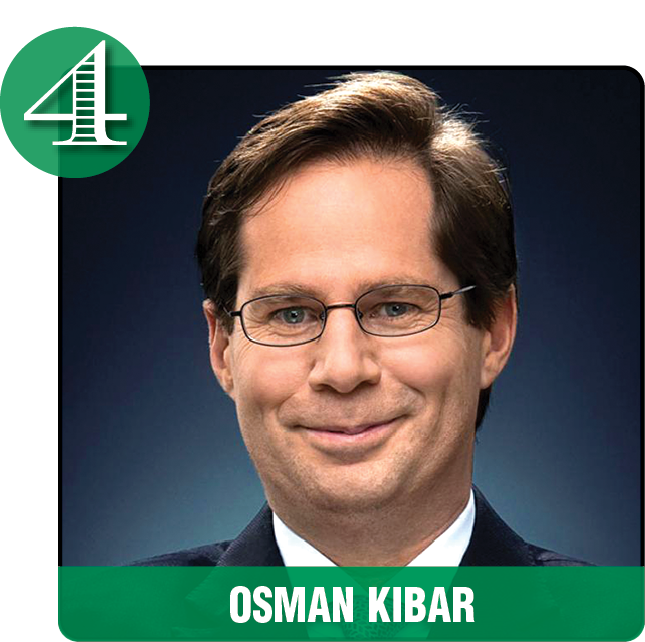 4. OSMAN KIBAR
Position/Status: CEO of Samumed
Net Worth: $1.4 billion

Age: 48
Residence: La Jolla
Source of Wealth: Samumed's private valuation
Osman Kibar is the founder and CEO of Samumed LLC, a local biotech company trying to develop anti-aging therapies. The company is now valued at $12.4 billion, according to several financial news sources.
Currently, the company has a substantial pipeline that includes possible treatments for balding and arthritis.
The Turkish-born Kibar attended UC San Diego as a graduate student and received a Ph.D. in biophotonics.
He founded cancer diagnostics company Geno tix, which was sold. He later co-founded E-Tenna, which made antennas. It too was eventually sold.
His net worth is based on his stake in Samumed.
After launching his two businesses, he founded Samumed in 2008 in a Pfizer incubator. But the company now operates independent of the pharmaceutical giant.
Kibar also served as a vice president at hedge fund Pequot Capital Management Inc., which shut down a decade ago over a controversy involving accusations of insider trading on the part of its founder, Arthur Samberg.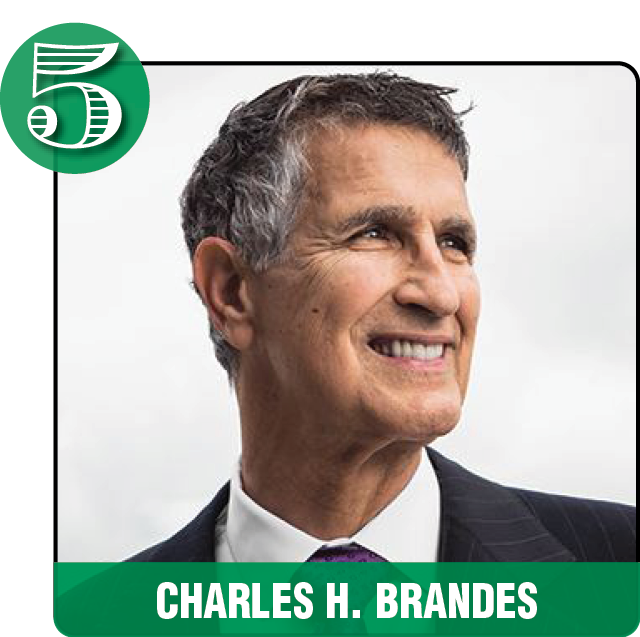 5. CHARLES H. BRANDES
Position/Status: Recently retired founder, chairman, Brandes Investment Partners LP
Net Worth: $1.1 billion
Age: 76
Residence: Rancho Santa Fe
Source of Wealth: Founder/chairman of investment advisory firm
Charles Brandes has seen his wealth rise and fall as founder and chairman of Brandes Investment Partners LP.
Brandes, who attended San Diego State University, worked as a stockbroker before founding investment firm in 1974, using the investment theories advanced by Benjamin Graham. Graham espoused value investing — buying quality companies' stock undervalued by the market. This was also the strategy that made mega-billionaire investor Warren Buffett a household name.
Graham's investment strategy, as executed by Brandes, proved wildly successful for the firm for much of the 1980s and 1990s.
At one point, the firm had more than $120 billion in assets under management, but the amount has since dropped to $29 billion, according to several sources.
Brandes retired from Brandes Investment Partners in early 2018.
Brandes has supported the San Diego Symphony, San Diego Jewish Academy, the Rady School of Management at UC San Diego and Elton John AIDS Foundation through his philanthropic arm, The Manzanita Foundation.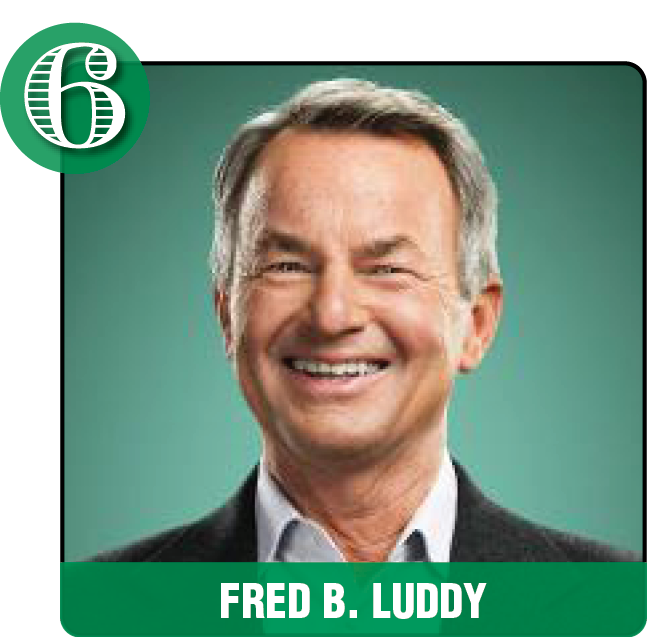 6. FRED B. LUDDY
Position/Status: Founder and Chairman, ServiceNow Inc.; owner, World Team Tennis
Net Worth: $1.1 billion
Age: 64
Residence: Del Mar
Source of Wealth: Software development
Fred Luddy founded enterprise software company ServiceNow Inc. in 2004, after having lost $35 million when Peregrine Systems Inc. filed for bankruptcy. He was the company's CEO until 2011 and continues to serve as chairman. His wealth stems from his ownership of the business.
He turned down a $2.5 billion buyout bid for ServiceNow in 2011, then led the company to successful public stock offering a year later.
The company has thrived over the past eight years under his leadership.
ServiceNow had $2.6 billion in 2018 revenues and more than 5,400 customers, according to the magazine.
Before Peregrine Systems, Luddy founded Enterprise Software Associates and was a software developer at mainframe computer maker Amdahl Corp.
He is co-owner of World Team Tennis and owner of the San Diego Aviators professional tennis team that plays at the Omni La Costa Resort and Spa in Carlsbad.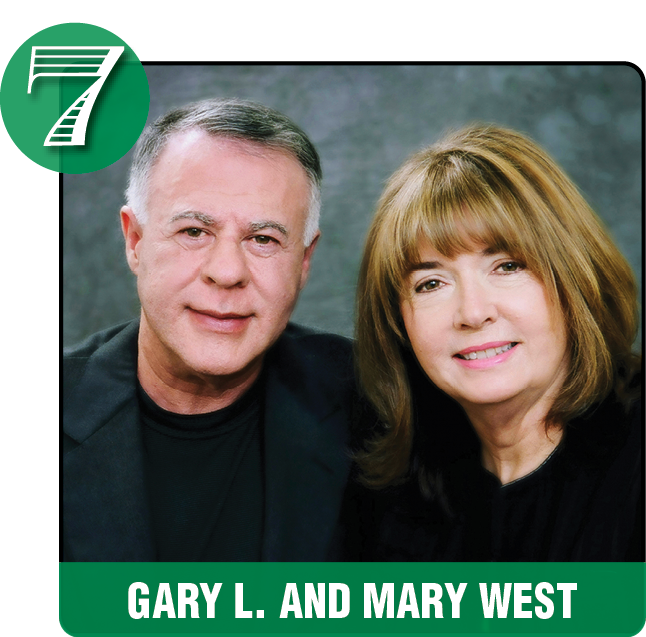 7. GARY L. AND MARY WEST
Position/Status: Philanthropists and entrepreneurs
Net Worth: $1 billion
Age: Both 73
Residence: Rancho Santa Fe
Source of Wealth: Call centers
The husband-and-wife team of Gary and Mary West achieved their fortune in owning and operating telephone call centers. Indeed, they were early pioneers in the business, starting in the 1970s. Today they now operate West Health as well as the Gary and Mary West Foundation.
In addition, they are avid horse racing enthusiasts and have been involved in thoroughbred racing for the past three decades.
The Wests won the 2013 Breeders' Cup Juvenile with New Year's Day and the 2018 Breeders' Cup Juvenile with Game Winner
Neither has a college degree, but they were early entrants in the telemarketing sector, building WATS Marketing of America into a powerhouse, which was sold in 1980 to First Data Resources, and later West Corp.
The Wests received $1.45 billion for their remaining stake in West Corp. when it went private in 2006, according to filings with the Securities and Exchange Commission.
Gary and Mary West have developed multiple for-profit and nonprofit organizations, including West Development, a hospitality operating company representing Carlsbad-based West Inn & Suites, West Steak and Seafood and West Partners, a private equity and real estate investment firm.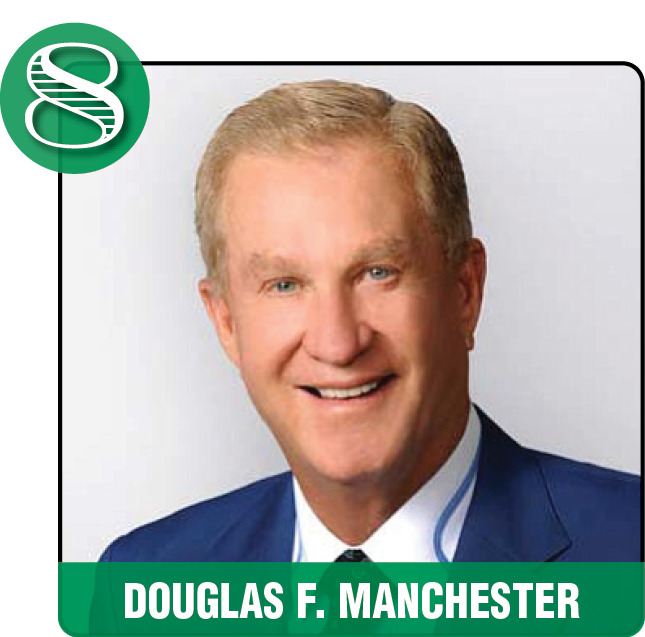 8. DOUGLAS F. MANCHESTER
Position/Status: Chairman, Manchester Financial Group
Net Worth: $1 billion
Age: 77
Residence: La Jolla
Source of Wealth: Real estate development
Douglas Manchester, has been a mainstay in local commercial real estate development. Now, he's devoting his time and effort to Pacific Gateway, a $1.5 billion mixed-use redevelopment at the Navy Broadway Complex near the waterfront.
Manchester's wealth stems from high-profile development projects that have helped transform San Diego's hotel and office landscapes, from downtown's Manchester Grand Hyatt and Marriott Marquis & Marina hotels, to what are now the 1 Columbia Place office tower and the Grand Del Mar resort.
He was briefly owner of The San Diego Union-Tribune. He sold off the paper to The Tribune Co. but not before separating and selling the newspaper's real estate holdings in 2015.
Manchester Financial Group controls more than $2 billion in assets, and recent projects include a $350 million luxury hotel in Austin, Texas. Manchester started his career in the insurance business in 1964.
Manchester is also a noted philanthropist. He likes to be called "Papa Doug" by his friends and business associates.
In late October, he announced he was withdrawing his bid to become ambassador to the Bahamas after his nomination by President Trump was stalled in the Senate.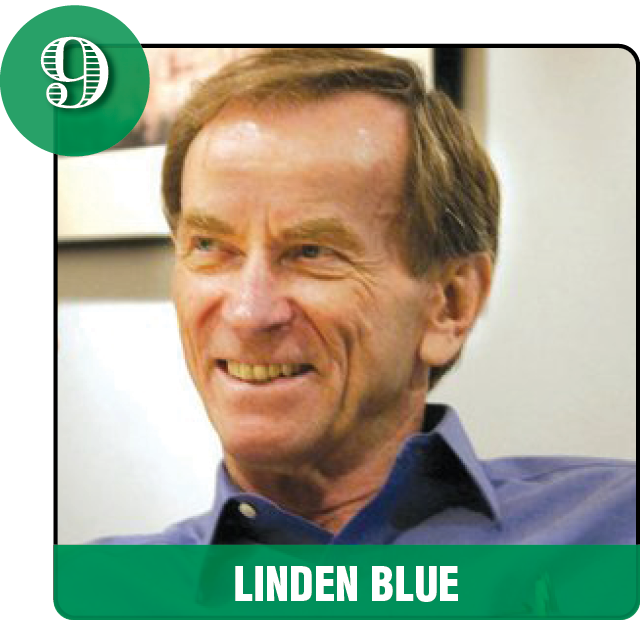 9. LINDEN BLUE
Position/Status: Vice President of General Atomics
Net Worth: $1 billion
Age: 83
Residence: La Jolla
Source of Wealth: Defense contracting, nuclear energy
Linden Blue is vice president of local defense contractor General Atomics, the U.S. military contractor that manufactures the Predator drones used by the CIA and others. He is the younger brother of Neal Blue.
Linden and Neal trace their hefty good fortune to a portfolio of businesses that encompasses aviation, uranium mining, nuclear engineering, real estate and oil-and-gas exploration. All are privately owned.
The younger brother held high-level posts at Gates Learjet Corp. before becoming CEO of Lear Fan Ltd. He also served as CEO of Beech Aircraft Corp. and as a director of Raytheon Co. He attended Yale University and Harvard Business School.
He is married to Ronne Froman, a retired admiral who was the first woman to serve as commander of the United States Navy Region Southwest, a position popularly known as the "Navy Mayor of San Diego."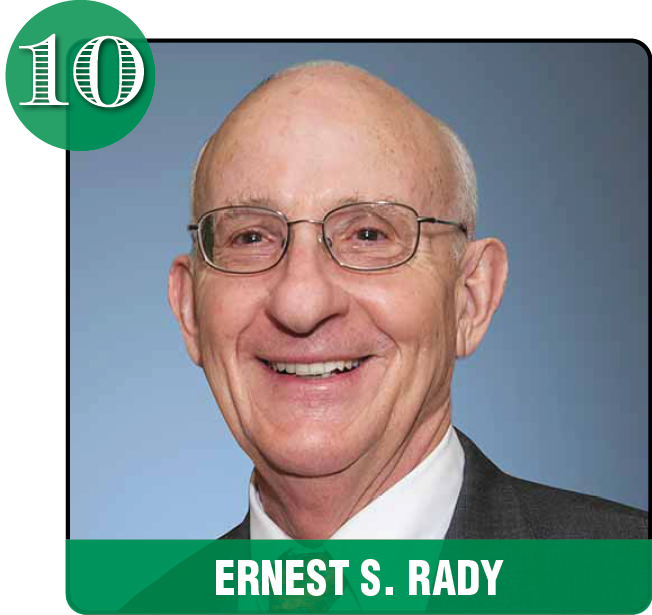 10. ERNEST S. RADY
Position/Status: Chairman, President and CEO, American Assets Trust Inc.
Net Worth: $900 Million
Age: 82
Residence: San Diego
Source of Wealth: Real estate, financial services
Not that long ago, Ernest Rady was a solid member of the billionaire club, having made his fortune in commercial real estate investing and development. At its peak, his net worth was estimated at more than $2 billion.
These days, he's said to be worth only high hundreds of millions. That's because he continues to donate large sums of money to his favorite charities, such as the eponymous Rady Children's Hospital in San Diego.
He and his wife, Evelyn, recently announced a $200 million gift to Rady Children's for a "top to bottom transformation." According to the hospital the Radys have donated over $400 million to Rady Children's.
It is the largest children's hospital in California and one of the most admired health institutions of its kind in the world, according to one publication.
Rady's also given at least $130 million to UC San Diego's Rady School of Management
Rady continues his role as chairman and CEO of publicly traded American Assets Trust Inc. a commercial property investment and development firm.
Rady is active in a variety of other roles in the community.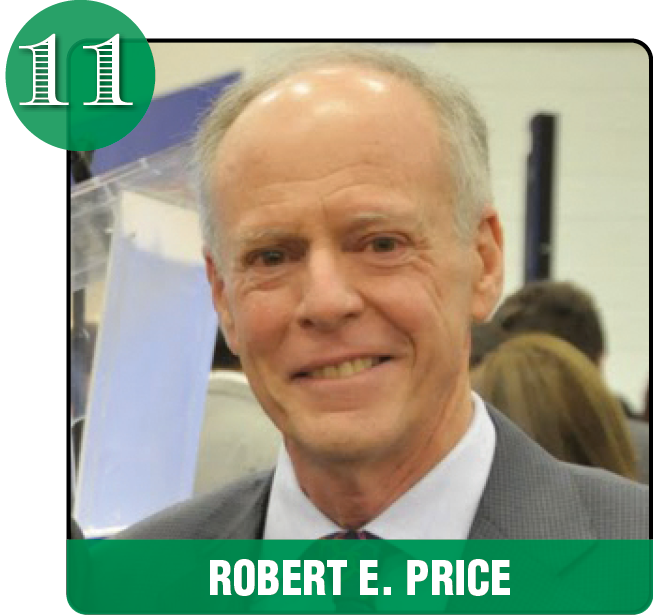 11. ROBERT E. PRICE
Position/Status: Chairman, PriceSmart Inc.
Net Worth: $800 Million
Age: 77
Residence: San Diego
Source of Wealth: Co-founder, chairman of PriceSmart Inc.
Robert Price leads PriceSmart Inc., a warehouse retail business that operates 43 warehouse stores — and plans to open more — in 12 countries, and one U.S. territory. The company, with stores mainly in Latin America and the Caribbean, was spun off from Price Club when it was sold to Costco in 1993.
His father, Sol Price, who died in 2009, was the visionary retail executive behind FedMart. After selling that business, he and son Robert launched Price Co. in 1976, opening their first store in the Morena neighborhood of San Diego.
Robert Price, who graduated from Pomona College, began his career at FedMart in 1965. He later served as CEO of Price Co. from 1976 to 1993.
In 1993, the Prices sold their company to Costco. That sale, which didn't include Price Clubs' international warehouse division, which became the basis of PriceSmart, netted them a reported $2 billion.
Robert Price also serves as president of the Price Philanthropies Foundation.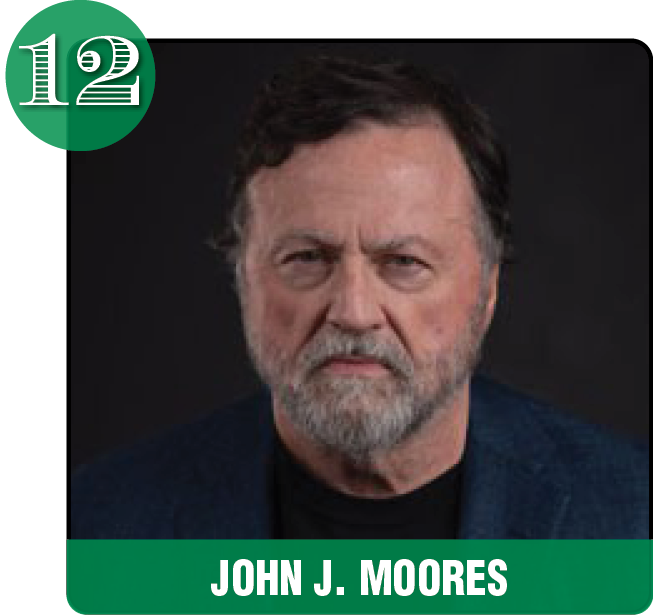 12. JOHN J. MOORES
Position/Status: Principal, JMI Services Inc.
Net Worth: $625 Million
Age: 75
Residence: Rancho Santa Fe
Source of Wealth: Software, investments, San Diego Padres
Local commercial real estate developer John J. Moores has been a presence in the local business community for decades. He was majority owner of the San Diego Padres from 1994 to 2012 when he sold the team for $800 million. He had purchased the team in 1994 for $80 million.
He was the moving force behind the construction of Petco Park and many of the commercial buildings that later surrounded the East Village ballpark.
A Texas native, he founded BMC Software in 1980 and grew it into one of the largest business-to-business software companies in the country.
Moores also made hundreds of millions from investments in Peregrine Systems, where he was chairman, and is a substantial stockholder in ServiceNow Inc.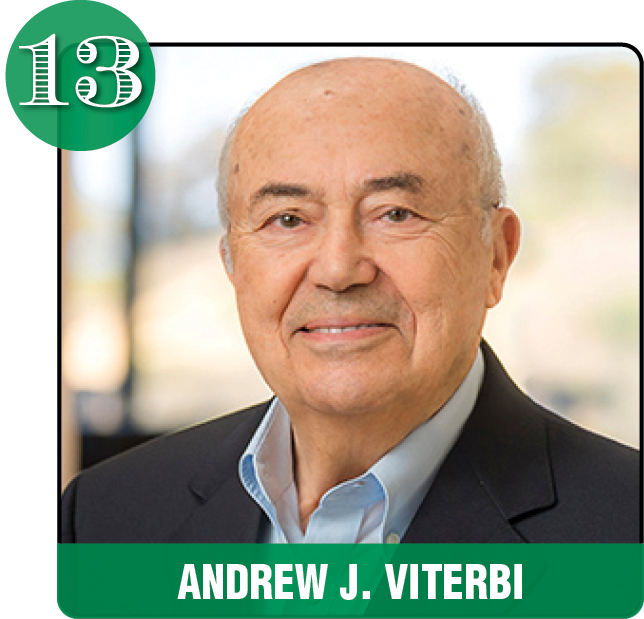 13. ANDREW J. VITERBI
Position/Status: Owner, Viterbi Group LLC
Net Worth: $600 Million
Age: 84
Residence: Rancho Santa Fe
Source of Wealth: Technology innovation, investment
Andrew Viterbi is a pioneer in the world of communications. He co-founded Qualcomm Inc. with Irwin Jacobs and others in 1985.
Viterbi invented the so-called Viterbi Algorithm, a mathematical formula that can help separate voice and data from background noise. The algorithm paved the way for the explosive development of cellular telephones beginning in the 1980s.
Viterbi is also the co-developer of CDMA — Code Division Multiple Access — the most widely used cell phone technology in the U.S.
The National Academy of Engineering recognized the accomplishment by presenting Viterbi with the Charles Stark Draper Prize for Engineering.
Viterbi has held several teaching positions and has spoken of his love for the profession.
Andrew and wife Erna Viterbi, who died in 2015, have made major gifts to various causes including engineering and education. Viterbi gave UC San Diego $50 million for ophthalmology.
Viterbi is the name behind Viterbi Group LLC, which invests in new technology companies.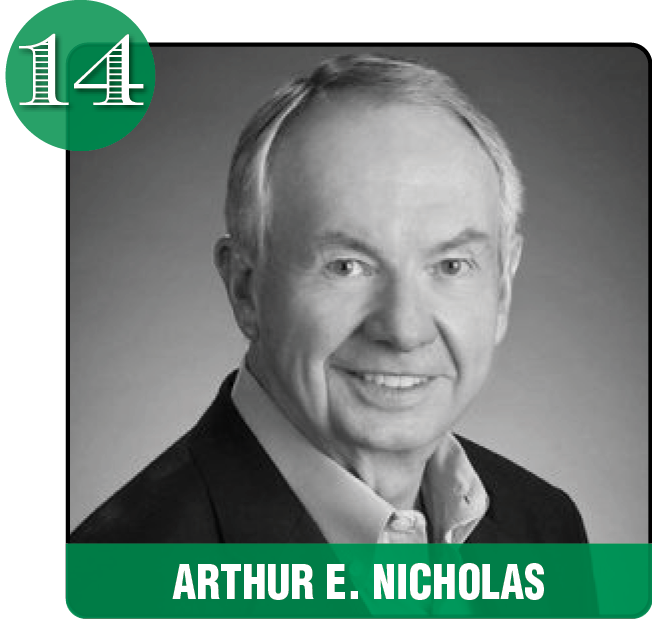 14. ARTHUR E. NICHOLAS
Position/Status: Co-founder, partner and advisor, Nicholas Investment Partners
Net Worth: $580 Million
Age: 73
Residence: Rancho Santa Fe
Source of Wealth: Founded, sold asset management company
Arthur Edward Nicholas is co-founder and partner of Nicholas Investment Partners.
According to the firm's website, the group has more than $1.2 billion under investment.
Nicholas previously was co-founder of asset management company Nicholas-Applegate Capital Management where he also served as chairman and chief executive officer. Nicholas-Applegate was sold to Allianz in 2001 for more than $980 million.
Nicholas' innovative approach to investing included using dynamic quantitative models to improve investment performance.
Nicholas is linked to the Wagonhound Land & Livestock Co. LLC, a ranch that raises cattle, breeds horses and provides outfitting services.
Nicholas serves on various boards including the National Cowboy & Western Heritage Museum.
He attended San Diego State University.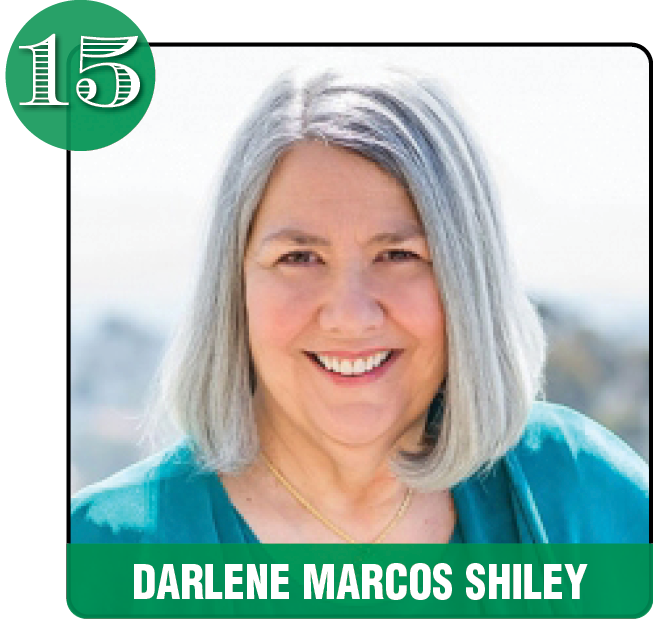 15. DARLENE MARCOS SHILEY
Position/Status: Philanthropist
Net Worth: $400 Million
Age: 72
Residence: Pauma Valley
Source of Wealth: Medical device, Björk–Shiley heart valve
Darlene Marcos Shiley, president of the Shiley Foundation, is one of San Diego's leading philanthropists. Her late husband, Donald Shiley, was co-inventor of the Bjork-Shiley heart valve. Shiley, who died in 2010, was founder and chairman of Shiley Inc., which he sold to pharmaceutical giant Pfizer.
The couple helped underwrite the creation of the UC San Diego Shiley Eye Center.
She helped create the Shiley-Marcos School of Engineering at the University of San Diego and gave funds to create Scripps Clinic's Donald P. and Darlene V. Shiley Musculoskeletal Center.
Marcos Shiley's gifts have gone to a variety of endeavors including education, civic projects and the arts. Estimates put her and her husband's philanthropy above $100 million.
She has served on various boards including the National Corporate Theatre Fund, The Old Globe, Scripps Clinic, KPBS, and UC San Diego.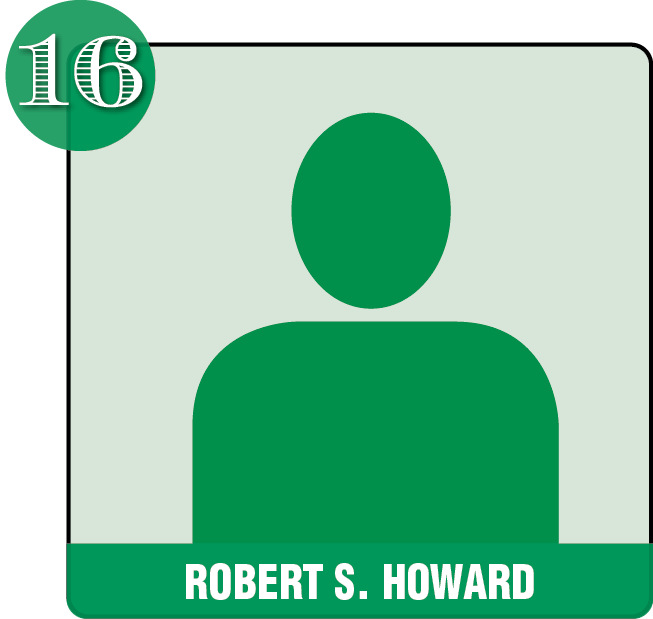 16. ROBERT S. HOWARD
Position/Status: Retired
Net Worth: $400 Million
Age: 95
Residence: Rancho Santa Fe
Source of Wealth: Media, energy
Robert S. Howard was for many years a North County newspaper publishing magnate. He founded Howard Publications in 1961 and built it into a chain of 19 dailies including the North County Times, the result of a merger between his daily newspapers in Escondido and Oceanside.
Howard sold his media empire to Lee Enterprises in 2002 for $694 million.
Those holdings were subsequently sold to the San Diego Union-Tribune as the newspaper business entered a very turbulent period in large part due to the impact of the internet.
His sons manage the Michigan–based Howard Energy Co., which he founded in 1983 and which primarily engages in the oil and gas exploration and production business.
The Howard Charitable Foundation was founded in 1999.