San Diego's largest contemporary fine art show, Art San Diego, kicked off its 10th Anniversary with IMPACT night, a VIP Preview Party hosted by sponsor UBS Financial Services. The evening raised funds for Rady Children's Hospital, Monarch School, HEAL and Generation Hope. The show was held at the Del Mar Fairgrounds' Wyland Center.
Linda Mariano, marketing director for Art San Diego said: "… We are pleased to have the tremendous support of our sponsor since day one: UBS. Their idea for an IMPACT night that gave back to the local community was the perfect way to celebrate our 10 years."
Art San Diego launched Access to Art [HOPE], a new program partnering with San Diego charities Generate Hope, HEAL (Homeless Empowerment Through Art & Leadership), Rady Children's Hospital and the Monarch School. Both silent and live auctions were held to raise funds for the participating charities.
The annual four-day event, sponsored by UBS Financial Services draws more than 15,000 attendees. Visitors viewed artwork from more than 70 exhibitors showing works from over 500 established and emerging artists. Visit art-sandiego.com.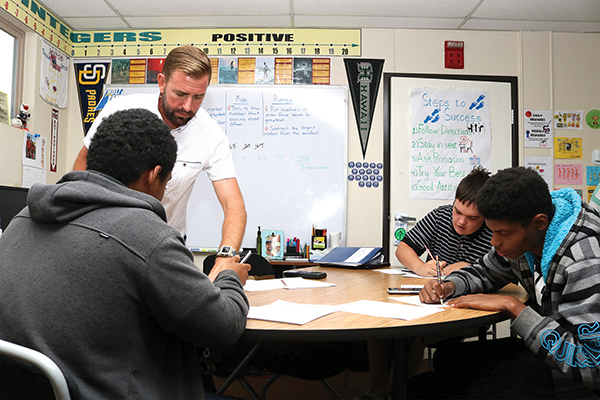 Academy Expands Its Formula for Math Success
The ResMed Foundation is continuing its support of the San Diego Center for Children Academy's Intensive Math Improvement Program for the seventh straight year with a grant award of $10,000. The center has been facilitating th program since 2012 and has expanded its capacity from last year to reach 40 students. This is an increase from the 25 students served during the 2016-2017 school year.
Moisés Barón, president and CEO of the San Diego Center for Children said: "Our specialized math program is designed to raise students' comprehension and mastery of mathematics so that they can graduate from high school and be prepared to go on to continued education or rewarding job opportunities … this support from the ResMed Foundation allows us to continue improving and expanding our Intensive Math Improvement Program for students at all grade levels."
The center's academy is a K-12 WASC accredited nonpublic school that is partially funded by and works in partnership with local school districts.
The ResMed Foundation was established in 2002 to support research and knowledge about sleep and breathing. Visit centerforchildren.org.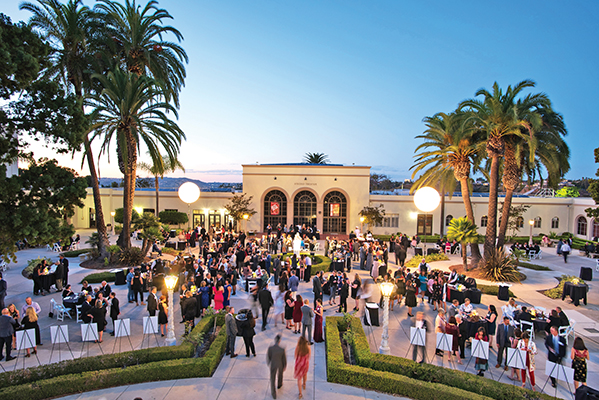 Contributions to Immigrant Community Are Honored
Casa Cornelia Law Center,a nonprofit law firm providing pro bono legal services to San Diego's immigrant community, announced an $8.5 million campaign to help fund the mounting need for quality representation and programs in today's legal climate. More than 600 guests gathered at the nonprofit's 25th anniversary celebration and raised more than $364,000 — a record-breaking investment to kick off the campaign and support Casa Cornelia's clients.
Sister Ann M. Durst, co-founder of Casa Cornelia said: "While we often focus on the plight of those fleeing persecution, our celebration provided an opportunity to recognize all of the good that has been accomplished over the years and thank those whose generosity made it all possible. All funds raised at the event and throughout the campaign will be critical to help create a San Diego where justice is pursued with compassion."  
The organization's 25th anniversary celebration awarded longtime volunteer attorneys, law firms and community members for their outstanding contributions to the immigrant community in Southern California:
Charles H. Dick, Jr. Esq.was awarded Distinguished Pro Bono Attorney of the Year for his long-time dedication to providing humanitarian protection to asylum seekers from Nigeria, Mexico, Eritrea and more.
Dilkhwaz Ahmed was awarded Humanitarian of the Year for her efforts to provide counseling, education and resources to refugee and immigrant survivors of domestic abuse in the U.S. and Middle East.
Visit casacornelia.org.
Fundraiser Helps Students Get A Shot at a Great Education
Nativity Prep Academy hosted its14th Annual Golf Classic presented by Sudberry Properties recently at the Coronado Municipal Golf Course. Additional event sponsors included The Orlando Co. Inc., Jamie Carr, Hoehn Motors, Coast Income Properties and Core Strengths. The event included a variety of golf course challenges as well as best overall foursome score. Guests were invited to meet current Nativity Prep Academy students, alumni from the school, as well as the new President Gil Brady. Nativity Prep Academy is San Diego's only private, tuition-free, faith-based school serving low-income students who will represent the first generation in their families to earn a college degree. Proceeds raised at the golf tournament totaled $238,000. Visit nativityprep.