The California Center for the Arts, Escondido Museum announced that it has joined Museums for All, a signature access program of the Institute of Museum and Library Services, administered by the Association of Children's Museums, to encourage people of all backgrounds to visit museums regularly and build lifelong museum-going habits. The program supports those receiving food assistance, or SNAP, benefits visiting the CCAE Museum for free, for up to four people, with the presentation of a SNAP Electronic Benefits Transfer card. Similar free and reduced admissions are available to eligible members of the public at more than 250 museums across the country. Participating in Museums for All is part of the CCAE Museum's broad commitment to seek, include, and welcome all audiences. Visit childrensmuseums.org.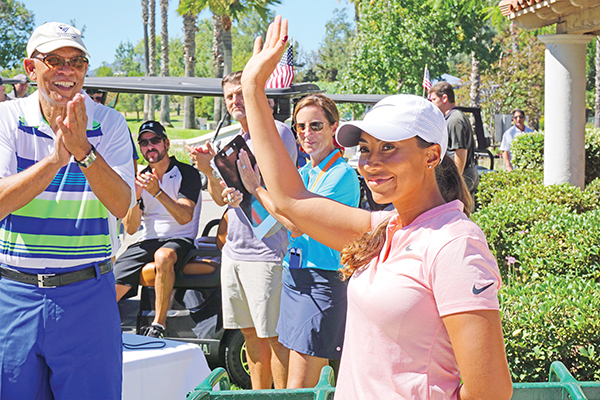 Celebrity Golf Classic Draws Very Good Crowd
Volunteers of America Southwest held its 19th Annual Celebrity Golf Classic recently and raised a net amount of $115,000. One hundred and thirty golfers attended the event at the Country Club of Rancho Bernardo. A portion of the proceeds benefits Volunteers of America Southwest's Hawley Veterans Services Center, to provide enhanced services to homeless male veterans suffering from disabilities.
A few of the celebrities in attendance were LPGA Pro Cheyenne Woods, who held a putting clinic for VIP golfers before the event, Trevor Hoffman, Kyle Kraska, Pete Shaw, Dokie Williams, Willie Buchanon, Darren Carrington, Marshall Faulk, Vencie Glenn, Chris Hale and Kellen Winslow. Following the tournament, golfers were invited to attend the 19th Hole with entertainment followed by a dinner and wine tasting event banquet, live auction, awards and prizes. Visit voasw.org.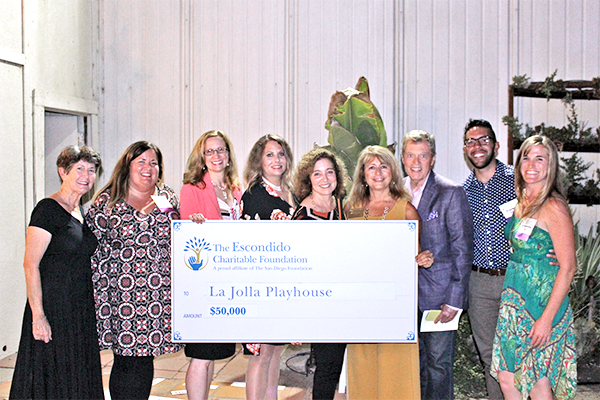 Arts and Culture Supported By Charitable Foundation
The Escondido Charitable Foundation, an affiliate of The San Diego Foundation, awarded $183,910 in funding to six nonprofit programs recently at its 12th Annual Grants Celebration. The grant will enhance Escondido through interactive, publicly accessible arts and cultural experiences. ECF has granted more than $2.2 million and generated $4.5 million in impact to strengthen the community of Escondido since 2006.
Jackie Skay, board chair for ECF said: "With our 2018-2019 grantmaking, members chose to invest in arts and cultural experiences that increase civic pride…" The six programs funded for the 2018-2019 grant cycle include: The Allegro Project with Civic Youth Orchestra Inc.; Local Color Mural and Flag Project with Escondido Arts Partnership; The Wall Speaks with Escondido Community Child Development Center; Restoration of Historic Victorian with Escondido History Center; Excavating Escondido II: An Interactive Adventure in Discovery with La Jolla Playhouse; Ticitozaa Folklorico Dance Festival with Tierra Caliente Academy of Arts. Visit sdfoundation.org.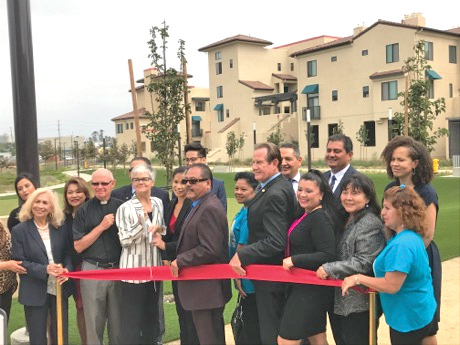 Affordable Homes Are Stepping Stone to Success
Envisioned as an incubator for homeownership, Paradise Creek supports residents with Community HousingWorks' award winning programs to improve their financial well-being and achieve life-changing goals. These opportunities include financial coaching, classes and the Rental Home Stability Program, Community HousingWorks' landmark eviction prevention program that helps residents at-risk for eviction achieve financial stability and sustainability.
Diana Yescas, a Phase One resident and single mother of two spoke at the opening ceremony: "My affordable home at Paradise Creek has been life-changing and helped me stabilize my finances as I prepare to go back to school. I am thankful to Community HousingWorks for my new home where my daughters can be safe and happy as I work for the success of our future."
Paradise Creek is managed by Related Management Co. and was designed by Pyatok Architects and Spurlock Landscape Architects. Phase 1 of Paradise Creek opened in 2016 with 109 homes. The second phase completes the community with 92 more homes. The site is located on National City's historic Westside and situated to promote walking, biking and transit ridership. Paradise Creek was recognized with a Silver Catalyst Award from the California Sustainable Communities Partnership. Upon completion of the adjacent park, the community master plan will be certified LEED Neighborhood Development.