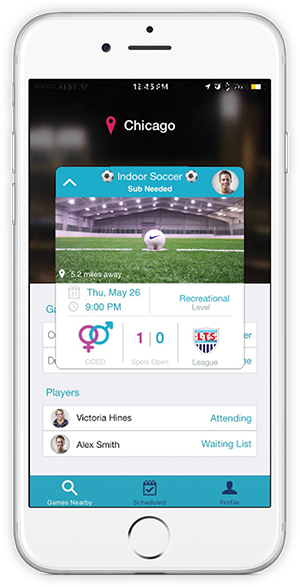 The makers of sports app Subme are solving a universal problem for recreational sports leagues: drop outs and no-shows.
Showing up for practice and games might be a matter of life or death in school, but players of "rec leagues" are often busy adults looking for a fun way to spend a weekend.
"These are social sports," said Subme co-founder Eric Geller, who plays dodgeball, flag football, and softball on San Diego teams. "People have other obligations and other priorities. Sometimes they don't show up for games."
For those committed to the team, however, no-shows can be upsetting. If the captain can't find a substitute in time, the team will often have to forfeit the game. Geller, 35, said it's common to see team captains furiously texting friends to sub in for no-shows minutes before a game. Sometimes they'll send blasts of desperation on social media: "I need a sub — and fast!"
This spurred Geller's co-founder Aaron Kahn to found Subme, an app that connects captains with local people interested in subbing in for games.
San Diego Success
The app has launched in 50 cities since its debut last April, and has accumulated 5,000 users in San Diego alone (its largest market). The app attracts a niche demographic of sports enthusiasts, increasing the likelihood that captains can find willing subs on short notice. Users don't immediately translate to revenue for startups, but Geller said the company has several plans for monetization.
One idea is charging users $5 or less when they sub in for games.
"If you sign up for a rec league, you have to pay $90 to $120 for the season," Geller said. "Leagues are in the business of new registrations. It's how they make their money."
But some people don't want such a long-term commitment. A cheap $5 game can be an easier sell to interested players.
Subme also wants to help leagues grow. Geller said leagues are most interested in creating full teams, so the app allows captains to connect with interested players and helps facilitate seasonal commitments. Currently, that money goes straight to the leagues, but Geller said he can see Subme charging 10 percent of the transaction price per sign up.
Subme also collects data on its users, and delivers analytics information to leagues.
The Competition
Subme isn't alone in the rec league space. A more developed tech company called LeagueApps plays in this same arena, helping leagues with scheduling and transactions. The New York City-based company has raised nearly $5 million in venture capital. But the company hasn't built out features for subs, or a network of willing players in popular regions, Geller said.
Could there be an acquisition in Subme's future? Geller said nothing's concrete, but they're considering all their options.
For now, the company is focused on growing its user base. Geller said San Diego State University used Subme for their rec sports intramurals program starting last semester. He expects University of California, San Diego and University of San Diego to do the same starting this fall.
Startup Cash
Two San Diego tech startups brought in sizable venture capital rounds early this month, both from Silicon Valley-based investors.
Shield AI Raises $10.5 Million
San Diego startup Shield AI, which makes a drone that uses artificial intelligence, raised $10.5 million in a Series A round led by Silicon Valley venture firm Andreessen Horowitz.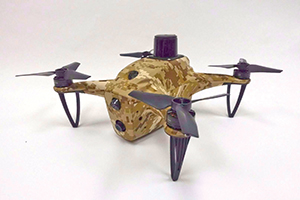 The funding will be used to further the company's technology — an AI-enabled drone that finds people and threats inside buildings without a remote pilot.
The company was co-founded by Brandon Tseng, a retired naval officer, based on his experiences serving in combat in Afghanistan.
"Sometimes, tragic things happen when good information is lacking on the battlefield," Tseng said. "When deployed, Shield AI drones will be the first example of service members using artificial intelligence on the battlefield to gather real-time information that saves lives and will provide immediate protection to U.S. ground forces and innocent civilians caught in conflict."
Tseng teamed up with his older brother, Ryan Tseng, who's serving as CEO, and Andrew Reiter, chief technology officer, to found Shield AI in 2015.
"When Brandon shared his stories of loss and inspiring vision of artificially intelligent machines that would save lives, Andrew and I left our jobs to join Brandon and start Shield," Ryan Tseng said.
The startup says it already has contracts with the Department of Defense and the Department of Homeland Security.
As part of the new financing deal, Peter Levine, general partner at Andreessen Horowitz, has been appointed to Shield's board of directors.
Investors Homebrew, Bloomberg Beta, and Founder Collective all joined in the round.
SOCi Inc. Closes $8.5M Series A Round
SOCi Inc., a company that makes a software platform for social media marketers, brought in $8.5 million in a Series A financing round.
The company plans to use the money to expand its sales and marketing efforts and further develop its technology.
The round was led by Silicon Valley-based Vertical Venture Partners and Arizona-based Grayhawk Capital. The Stanford University DAPER fund, Bay Area-based Peninsula Ventures and Arizona-based Tallwave Capital also participated, SOCi said.
The startup, founded in 2012, previously raised a $2.25 million round in 2016 and a $1.5 million round in 2014.
Approved Lands $1 Million, Launches Platform
Approved, a San Diego-based fintech that aims to digitize the mortgage process, has closed a $1 million round of financing and formally launched its platform.
Co-founders CEO Andy Taylor and chief technology officer Navtej Sadhal, who previously worked together at real estate website Redfin, started the company in 2015. It's their first entrepreneurial venture.
Previously the startup had raised $250,000 in angel funds.
"We believe getting the loan is the most tedious part of buying a home," Taylor said. He said the startup hopes to streamline the process for lenders and borrowers alike like Redfin did for prospective real estate buyers searching for properties.
The funding, a pre-seed round, was led by Social Capital and Precursor Ventures. Bluesky Equities, Graph Ventures and a number of angel investors joined.
After leaving Redfin, Taylor spent some time as an entrepreneur-in-residence at Social Capital, the Palo Alto-based venture capital firm which was then known as Social+Capital Partnership.
Previously Taylor worked at Apple; Sadhal, at semiconductor company Advanced Micro Devices, Inc.
The money will be used to take the platform, which has been in pilot testing for about six months, into full production.
Testers told Approved the platform had reduced the time it took them to complete loans by about 50 percent, Taylor said. That's because it made document collection simpler through features such as the ability for borrowers to take a photo with a phone of the needed paperwork and sent it securely to a loan officer.
Big firms are also getting into the digital mortgage space. Orange County-based LoanDepot recently spent $80 million on a digital lending platform and Quicken Loans' Rocket Mortgage promises online-only approvals.
Taylor said Approved's platform is for companies of all sizes and digital know-how.
Approved is based in downtown San Diego at EvoNexus, a technology incubator for startups. The company has five employees.
Sarah de Crescenzo