SoleMate, a company started by UC San Diego bioengineering students Surabhi Kalyan and Kristine Khieu, took first place at the school's second annual Ignite Conference pitch competition.
Twenty-nine startups pitched their business ideas for 90 seconds to a panel of eight judges March 6. Prizes ranged from $2,500 for the top team to $1,000 for sixth place.
SoleMate, a smart shoe insole, is intended for patients using crutches. The insole measures the weight borne by a patient's foot, and provides feedback via an app to optimize the rehabilitation process.
The duo behind SoleMate say they have developed a working prototype, and are partnering with Rady Children's Hospital and the Jacobs School of Engineering.
Second place went to OsteoLux, started by bioengineering undergraduates Taylor Hall Williams and Allison Duchnak.
The company is developing a device to cure bone cement quickly during orthopedic surgery. Today surgeons must physically hold an implant to the bone for 10 minutes while the cement dries.
Both the first- and second-place teams developed their ideas in a clinical bioengineering course headed by professor Adam Engler. The course includes time spent shadowing clinical faculty in a hospital to determine what solutions engineering might provide to problems observed in the clinic.
Aerospace engineering student Darren Charrier took third in the competition with his company Voyager Space Technologies, which he said is developing an AI-powered solution to source satellite components.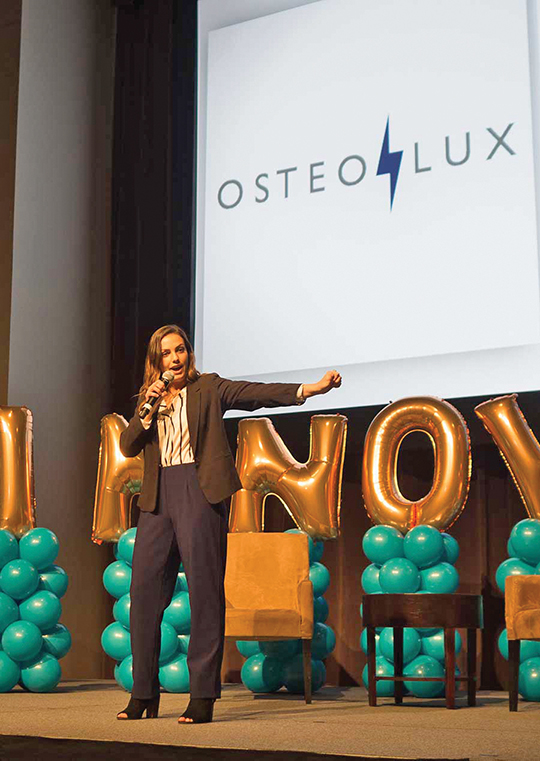 The software is intended to quicken the pace of sourcing and reduce errors to drive down the cost of space exploration.