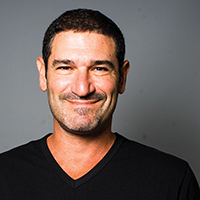 Say you had a friend visiting from out of town. Where would you tell them to stay, shop and eat? Jordan Glazier, founder of San Diego-based Wildfire Systems Inc., is counting on these recommendations for a new e-commerce platform that incentivizes users to share their favorites.
Glazier is no stranger to the e-commerce market. He grew his career with eBay in the late 1990s, heading up the company's computers, consumer electronics and business segments. Most recently, he served as CEO of local startup Eventful Inc. for eight years, before the company was bought by CBS Media in 2014.
Unlike writing a review on Yelp or Google, Glazier's system detects recommendations shared through other social platforms, such as Facebook, Instagram or instant messaging. It then creates a link, which tracks whether a purchase is made, and doles out a reward accordingly. For example, Glazier received $5 after a friend purchased a pair of shoes, or $100 from a plane ticket purchase.
While the incentive for consumers to participate is clear, Glazier said the system also gives companies a more direct way to advertise their products online. He's marketing the concept as an alternative to pay-per-click advertising and influencer campaigns, which he says involves a lot of guesswork.
"When you think about e-commerce, merchants and brands, they put a lot of energy, time and money into trying to get their existing customer to be their voice. … In my opinion, the benefits from that are very indirect," Glazier said. "We went straight to the bottom line: Rather than getting someone to like your brand, if you can motivate people to tell their friends and family 'this is a product I like', that is much more of a direct impact for merchants."
With the platform, companies pay every time a purchase is made through a link generated by Glazier's product. Glazier said he spent the company's first year building relationships with well-known brands, who agreed to participate. Wildfire takes a cut, its platform partners take a cut, and users get a payout, though Glazier wouldn't disclose the "secret sauce" behind that formula.
So far, he's gotten about 20,000 brands on board, including Expedia, REI, Ticketmaster and Walmart. He said the platform is especially successful with bigger-ticket items, such as hotels and airlines, where users value a trusted recommendation more.
"The response was very enthusiastic," he said. "(Companies) know that word of mouth and recommendations are the most powerful drivers of commerce."
Wildfire is still in its infancy. The company raised $2 million in seed funding last year from Los Angeles-based Mucker Capital, and did a soft launch of the platform in the second quarter of 2018. Wildlink officially launched to the public on Sept. 19.
Since then, Glazier has accumulated thousands of users through word-of-mouth, and begun turning a revenue on the product. His company has eight employees — mostly developers, at this point — but he's planning to start another round of financing soon to build out a business development team.
"I see a clear path to being a ubiquitous platform. We need a network of platform partners," he said. "It's early days. The whole ecosystem is working beautifully."