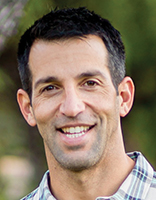 San Diego investor Shayne Skaff has launched a new incubator for software and data science companies. Dubbed, "the Sandbox," the program is aimed exclusively at software-as-a-service companies, machine learning, and other data-heavy applications.
Skaff is best known as the co-founder of MaintenanceNet, a Carlsbad software company that sold to Cisco Systems in 2015 for $139 million. He joined up with MaintenanceNet co-founder and CEO Scott Herron to launch local firm Mooring Ventures, which primarily invests in early-stage SaaS companies.
From that work, they created the Sandbox. Unlike the investment business, which requires startups to have revenues and paying customers, the Sandbox is open to companies earlier in the process, when an entrepreneur has a promising product, but needs help commercializing it.
"We were looking at doing more investments in San Diego," Skaff said. "I saw there was a gap where I had met a number of scientists and engineers here in San Diego over the years who had built an amazing product, but they just had no clue how to raise money, or how to make their dream a reality in going to market."
Skaff also had his early days with MaintenanceNet in mind when he helped form the Sandbox. Over the 12 years where he and Herron built the company, they went through two funding rounds, bringing on what Skaff calls "smart money," or funding that comes with expertise.
"We want to make sure it's smart money. It's not just somebody coming in to fund one of these companies. It's someone with intellectual knowledge they can bring," Skaff said. "Time and operational mentorship is always more valuable than the money. Obviously, they need money to build the business, but time and mentorship is exponentially more valuable."
The Sandbox opened its new, 7,000-square-foot space in Sorrento Valley, a few weeks ago. It currently hosts four businesses, including a commercial banking platform, a DNA printing company and a data normalizer. While it might sound like a wide spread, they all have one thing in common: the use of deep learning or some form of AI technology.
All of the companies in the program have access to subsidized space, mentorship and services. In exchange, Skaff's program takes up to 5 percent equity.
In some cases, Mooring Ventures provides capital as the "smart money." For areas outside of his expertise, Skaff said he connects startups to a seed or angel investor that has knowledge in that space.
Skaff's goal is to have companies that have gone through the Sandbox raise enough funding, or gain enough customers, to be able to go out on their own in 12 to 18 months.
"We're not looking to bring in 100 startups. We're looking for six or seven," he said. "Our focus is to make sure every single company in the program makes it."