CEO: Afif Khoury
Total funding raised: $22.8 million
No. of local employees: 70
Investors: Vertical Venture Partners, Grayhawk Capital, Tallwave Capital, Blossom Street Ventures, Peninsula Ventures
Headquarters: Downtown San Diego
Year founded: 2012
Company description: The social media platform helps large enterprises manage content across multiple locations.
Afif Khoury might just have a little bit of luck.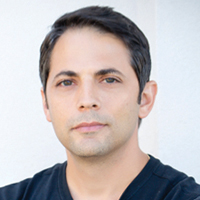 The serial entrepreneur's most recent venture, a San Diego-based social media company called Soci, is taking off. In August, the company closed a $10.5 million Series B round led by Menlo Park-based Vertical Venture Partners. Now, Soci is nearly bursting at the seams, with about 70 employees in its San Diego offices, and plans to build out its engineering and customer service teams.
The historic building that the company calls home has its own success stories. The George Hill Building previously housed local agency Digitaria and fundraising platform Classy before they, too, outgrew the space.
"Maybe in there, there's some magic," Khoury said.
Beyond those walls, the company's success could also be attributed to Khoury's variety of past experiences — as a founder, an attorney and an investor.
"Sometimes it helps me. Sometimes it gets in the way of me being too bold," he said.
His First Startup
Khoury moved to California from Saudi Arabia at a young age. He spent most of his childhood in San Diego, where he attended Catholic school. He had originally planned to go to medical school, but instead opted to create his own startup; a self-diagnosis platform called SymptomCare.com.
To appease his parents, Khoury went to law school while he continued to grow his business.
"I chose Northwestern University because attendance wasn't mandatory," he said. "I could run my company and show up for the exam."
The company was successful. Khoury said SymptomCare was in discussions to be acquired. But then the dot-com bubble burst, taking with it the acquisition prospects and funding. So, Khoury took his law degree to San Francisco, where he began his career with Wilson Sonsini Goodrich & Rosati.
Choosing San Diego
After Khoury proposed to his wife, they decided to move to San Diego to start their family. They now have four sons, ages 5 to 11, that they're raising with the company.
"It's been a wonderful experience," he said. "Sometimes, they second guess me. They ask, 'dad, why did you do that?'"
After his legal career, Khoury launched his own venture fund, Scatter Ventures, which focuses on seed- and early-stage companies. Since it was in the middle of the recession, in 2010, Khoury was able to invest in 25 deals. They returned the fund in year two.
"It worked well, whether we got lucky or were good at it," he said.
Khoury took over as CEO for one of the companies in the fund, a social media company called FanGate Media, which helped clients run sweepstakes and contests through its platform. A question from one of the company's clients sparked the idea for Soci: Could the company manage that contest across its numerous locations?
First Customer
Khoury began talking to co-founder and chief technology officer Alo Sarv about the idea. In 2012, they incorporated Soci, and in 2014, they landed their first client.
"We convinced a very large customer who had no idea they were our first customer," he said. "We were really nervous. It was still a two-man show. But it worked."
The idea behind Soci is that if a company has 10,000 locations and four social media platforms, then it effectively has to manage 40,000 pages. The platform is designed to help companies manage content across these pages, geographically target content and collect data from its various locations. Some of the company's current clients include Ace Hardware, Sport Clips and Liberty Tax.
"Now, social media is not just content. It's the primary customer care platform," Khoury said. "We raised the Series B so we can go deeper on this notion."
In the long run, Khoury hopes to see Soci through its growth, which he never got to experience with SymtomCare. Just two years ago, the company had 20 employees, and now it has 100, split between San Diego and Austin, Texas. With the Series B, the company plans to grow its team and its ability to package data into useful insights for its clients.
A Software Hub
More broadly, Khoury also hopes to follow in the footsteps of local tech leaders in seeing San Diego become a software hub. Doug Winter, founder of Seismic, serves as an advisor for Soci. Khoury thinks fast-growing businesses like Seismic, Tealium and ServiceNow will pave the way for future tech companies.
"San Diego's traditionally a science town, but enterprise SaaS has arrived," he said. "These are going to be the companies that are going to pave the way for funding to come in, talent to come in, and future companies to flourish in San Diego in software."