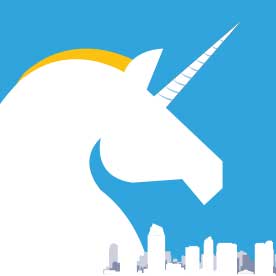 People in the local startup community like to talk about a few big topics on a regular basis: raising money, finding talent, and San Diego's inhospitable habitat for breeding unicorns.
The unicorn topic in particular repeatedly surfaces in interviews and startup events. When asked the question, "What does San Diego's startup economy need to thrive?" The collective response from tech founders is deafening: San Diego needs a unicorn.
For those unfamiliar with the term, a "unicorn" is a startup company that reaches $1 billion in a short period of time (think Uber and Airbnb). Unicorns are almost always technology companies, because software has the unique ability to scale quickly.
Although San Diego has Qualcomm Inc. and other multibillion-dollar tech companies, these businesses were slow-growth successes specializing in hardware first (like many giants of yesteryear).
But it's a new era. Today's startups can scale rapidly thanks to cloud computing and other modern tech, making giants out of business babes such as DropBox and SnapChat.
A Unicorn Wasteland
San Diego has no billion-dollar startups outside the science realm (Human Longevity is a self-reported unicorn), and instead is home to many small and midmarket tech companies.
The biggest technology exit San Diego saw in recent years was the $400 million acquisition of artificial intelligence firm Nervana Systems to Intel in 2016, only two years after the company was founded. (Interestingly, few San Diegans have heard of Nervana Systems, so the city's biggest tech success didn't even make a local splash.)
Without a big (and loud) win in technology — and more specifically in software — San Diego's startup scene continues to struggle when it comes to attracting talent and capital.
When recruiting Bay Area talent to San Diego, technology recruiter Jared Sanderson said his biggest challenge is convincing talent that San Diego's technology hub is vibrant and varied.
"They want to know there's going to be multiple opportunities, and that they'll have plenty of exciting technology companies to work for if they move around," said Sanderson, director at Sayva Solutions.
A Capital Wasteland
And when it comes to capital, San Diego companies brought in an impressive $1.1 billion in venture capital last year, according to the Dow Jones VentureSource. Unfortunately for the startup scene, most of that cash went to life science companies (those drug development firms that take 10 years and $1 billion in investment dollars before they start making money).
Olin Hyde, a local entrepreneur and the CEO of LeadCrunch, said the lack of unicorns is a handicap on San Diego's startup scene. Without a unicorn, Hyde argues, the local economy will have a hard time attracting the institutional money the hub needs to thrive.
And Hyde isn't alone. The lack of "big wins" from San Diego tech companies is a favorite target when comparing the city to startup hub giants like Silicon Valley and New York. Trace all of San Diego's pain points — lack of venture capital, lack of leadership talent, lack of engineers — back far enough and you'll end up at "no big wins" in software.
Why Should San Diego Want a Unicorn?
There's both tangible and intangible value for a city that incubates a unicorn. The obvious benefit is jobs for locals and money infused into the community. Where the business cycle used to take years to impact an economy, successful startup funding can take shape almost overnight and give immediate juice to the economy.
The intangibles have more to do with a city's credibility as a "technology hub," and what these hubs tend to attract (hint: millennials and more money).
Stockholm, Sweden, for example, is home of the unicorn music-streaming app Spotify. Since the startup reached unicorn status, the region has become a prolific startup hub, attracting capital, incubators, and accelerators. It's been characterized as the "technology capital of Europe" and "fastest-growing city of Europe."
Not Necessary, But Helpful
Longtime venture capitalist Jay Lichter isn't convinced a unicorn is critical to San Diego's startup hub success.
"I'm not sure it's necessary, but it certainly helps," said Lichter, managing partner at Avalon Ventures.
Lichter says the benefit of the unicorn to the local economy is not in its success, but in its inevitable downfall.
"If you're a billion-dollar company, for example, you're going to have several hundred software engineers," Lichter said. "Then when you shrink into a $400 million company, all those engineers will leave and create their own startups."
Be Careful What You Wish For
As Lichter points out, there's more to unicorns than fairytale valuations. Most unicorns grow fast, fueled by venture capital and other types of early-stage funding, and then face harsh devaluations once revenue fails to deliver. Raising capital and boosting hype is often the primary concern of a fast-growth startup, and creating revenue comes second (often to their detriment). Twitter and Uber come to mind, along with SnapChat's fast-declining valuation after going public earlier this month.
Lichter said it's possible that growing smaller or midmarket companies could be better for building a sustainable startup economy in San Diego.
"If you have a bunch of $100 million companies, that' a very strong economy," Lichter said. "And the quality of that revenue is probably better than Uber, where they're losing money hand over fist."