Much of San Diego's sizable manufacturing capacity goes to support the Department of Defense.
The Pentagon steers billions of dollars to San Diego yearly, as the annual report from the San Diego Military Advisory Council shows (see coverage on page 1).
One major expense is procurement. In simple terms, it is the government buying things to equip the military.
And the military buys a lot of things.
On the large end, there are ships. General Dynamics NASSCO builds new ships for the U.S. Navy in a sprawling yard in Barrio Logan. A ship known as an Expeditionary Sea Base measures 784 feet, stem to stern.
On the small end, assemblers at Cobham PLC in Kearny Mesa apply tiny capacitors — so small that they are barely visible — to circuit boards. These go into sophisticated military electronics.
Cobham claims to have a spot in every U.S. military aircraft, and in certain ships as well. It is producing electronics for the next generation Air and Missile Defense radar on the U.S. Navy's newest Arleigh Burke-class destroyers.
Electronics is a common theme in San Diego defense manufacturing.
Cubic Corp. manufactures aircraft-mounted combat simulation hardware in San Diego. Cubic also chooses to manufacture projects under development in San Diego.
For Cubic, San Diego is "more of a high-tech, low-volume final assembly, test and integration site," said Jeff Blakeman, the corporation's vice president of manufacturing.
Higher volume work that is repeatable and less secure goes to lower-cost areas outside of San Diego, he said.
High-tech manufacturers in the area also include Carlsbad-based Viasat Inc.
Northrop Grumman Corp. has at least two major defense electronics manufacturing plants in the area. One builds signal jammers designed to foil roadside bombs. The other builds communications, navigation and identification electronics for the F-35 Lightning II fighter aircraft.
A Rich Manufacturing Scene
The San Diego Regional Economic Development Corp. reports San Diego manufacturers — defense and non-defense — employ more than 110,000 people. They make items as varied as guitars and craft beer. San Diego's life sciences sector also manufactures products.
Without going too far, companies can find lower-cost manufacturing options south of the U.S.-Mexico International Border.
Often military products have uses in the commercial world.
Leonardo DRS makes a certain kind of laser able to divert a shoulder-fired missile from a military helicopter. Outside of military use, its mid-infrared lasers have medical applications. Publicly traded LRAD Corp. (Nasdaq: LRAD) makes directional loudspeakers used by both the military and public safety agencies.
NASSCO, the shipyard, makes products for military and commercial uses. The business' history goes back to the days when the tuna industry was a big employer in San Diego. During the 1940s, the shipyard built tuna boats. Since then the General Dynamics (NYSE: GD) yard has accumulated a highly specialized infrastructure for building new ships — some for commercial clients, and others for the U.S. Navy.
In September the shipyard received a $1.1 billion contract for two Expeditionary Sea Base ships, which can be used to support amphibious assaults. The Navy has an option to buy a third ship, which would increase the deal to $1.63 billion.
In addition, NASSCO is embarking on a project to produce oiler ships for the Navy. The latter are meant to refuel and replenish fighting ships in the middle of the ocean. An initial six oilers are being built under a $3.2 billion contract. Eventually, the Navy may buy as many as 20 oilers.
NASSCO tends to build auxiliary ships for the Navy, leaving work on surface combatants and submarines to other shipyards on the East Coast and Gulf Coast.
Outside of manufacturing, NASSCO and neighbor BAE Systems San Diego Ship Repair maintain and repair Navy ships.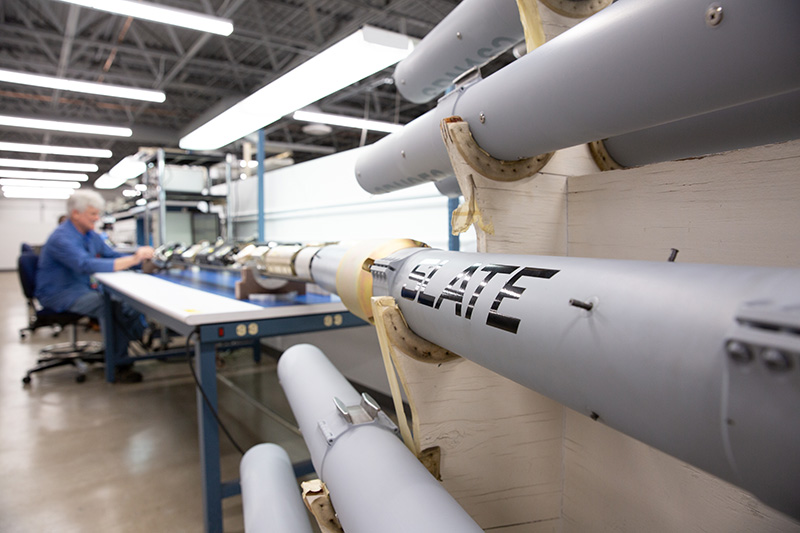 Part of the Heritage
Why is there so much defense manufacturing in San Diego?
One reason is that San Diego's history is so tied up with aerospace. Charles Lindbergh's Spirit of St. Louis was built here, as were World War II military aircraft such as the B-24 and the PBY. General Dynamics built cruise missiles in Kearny Mesa. After the Cold War, the factory came down.
Even when large aerospace contractors moved to other areas of the country, their suppliers remained in San Diego, said Rick Urban, chief operating officer and CFO of Santee-based Quality Controlled Manufacturing Inc., or QCMI. One recent example of a business that left is the former Hamilton Sundstrand business which made auxiliary power units for jets.
QCMI machines parts from metal, including exotic alloys. Aerospace — both military and commercial — makes up about half of its business.
Other East County companies making aerospace components are Weldmac Manufacturing Co. and GKN Aerospace, both of El Cajon. With 800 employees, GKN is an arm of a very large company in the United Kingdom.
An Unmanned Metropolis
Northrop Grumman (NYSE: NOC) runs unmanned aircraft programs in San Diego's northern suburbs. However, it builds the aircraft in other cities, such as Palmdale.
Even so, military aircraft are still made in San Diego County.
General Atomics Aeronautical Systems Inc. has a factory in Poway making the Predator family of remotely piloted aircraft. The business counts the U.S. Air Force, U.S. Army and foreign military services as customers. The U.S. Marine Corps has been trying out GA-ASI's aircraft. Endurance is one of the unmanned systems' selling points. GA-ASI aircraft can stay in the air for 24 hours, and in the case of some models, much longer.
The unmanned aircraft business employs subcontractors throughout the nation. GA-ASI's local suppliers include Reliance Steel & Aluminum Co. of El Cajon, Dynamic Solutions Systems Inc. of San Marcos, Bree Engineering Corp. of San Marcos, Plastifab San Diego of Poway, U.S. Circuit Inc. of Escondido, Manzke Machine Inc. of Escondido and Hughes Circuits Inc. of San Marcos.
"GA-ASI's success is based largely on our highly skilled and dependable supply chain," said David R. Alexander, president, GA-ASI, in a statement distributed by the manufacturer.