The Defense Department pumped an estimated $28.1 billion into the San Diego County economy — an all-time high — during the recently completed 2019 fiscal year.
Paychecks for Defense Department employees such as Marines and civilian scientists contributed to the amount, as did the checks received by retirees on military pensions. Procurement contracts made up a $10.3 billion slice of the pie.
Aircraft accounted for a large part of the procurement, with more than $3 billion, while shipbuilding came in at slightly less than $2 billion. San Diego contractors in those spaces include General Atomics Aeronautical Systems Inc. and General Dynamics NASSCO.
The $28.1 billion pouring into San Diego County is an amount greater than many gross national products, including those of Cambodia, Cyprus, Iceland, Uganda or 100 other countries or territories.
Military spending is not expected to decrease.
Even though the Defense Department began fiscal 2020 without a budget, spending in the region is forecast to grow 6% to $29.8 billion in the fiscal year that ends in September 2020. That is according to the San Diego Military Advisory Council, the nonprofit organization that generated the statistics. SDMAC released its 11th annual San Diego Military Economic Impact Study on Oct. 10.
A Banner Year in 2018
Study authors misjudged the amount of defense spending coming into San Diego County for fiscal 2018. "The actuals for last year were even better news than the predicted number," said Mark Balmert, a retired Navy rear admiral who is now executive director of SDMAC.
Instead of $25.7 billion, the estimate at this time last year, the actual figure ended up at $27.1 billion, a 5.4% increase from the estimate.
SDMAC brings together leaders from the defense industry, civilian political circles and the military. It advocates for policies to benefit service members, veterans and the military itself.
For example, it has come out against California's tax on military pensions.
The new SDMAC report lists challenges for the military in San Diego, mentioning many faced by junior members of the services. They include a high cost of living, the availability of housing near bases, the availability of jobs for military spouses and child care.
Other challenges, which may apply to military units or defense contractors, include potential tariffs on products and commodities such as aluminum, steel and electronic components.
Head Count Expected to Grow
Some 143,000 active duty and civilian employees collect paychecks from the Defense Department in San Diego County, study authors said. That number is expected to grow dramatically.
"We're still benefiting from warships coming to San Diego," Balmert said.
As part of a years-long effort to put more assets in the Pacific, the Navy will increase the number of ships stationed in San Diego by five in fiscal 2020, making for a total of 65. The number of Navy sailors and officers in San Diego is expected to grow from 56,431 in 2019 to 63,774 in 2020, a 13% increase. The number of aircraft carriers stationed at Naval Air Station North Island is expected to grow to three in fiscal 2020. Each carrier in port represents an $800 million boost in annual gross regional product, including ripple effects, the study said.
Study authors said the $28.1 billion in direct spending, released into the economy, is only the start of the process. Considering the effects of money changing hands, study authors say the military creates a $51 billion impact on the San Diego economy. Ultimately military spending, with all its ripple effects, is responsible for creating 354,000 jobs, or slightly more than one fifth of the jobs in San Diego (the estimate is 22%).
That number is expected to grow to $54.3 billion in 2020, study authors said.
Growth in the defense economy would shield San Diego against any possible slowdown in the national or world economies, study authors said.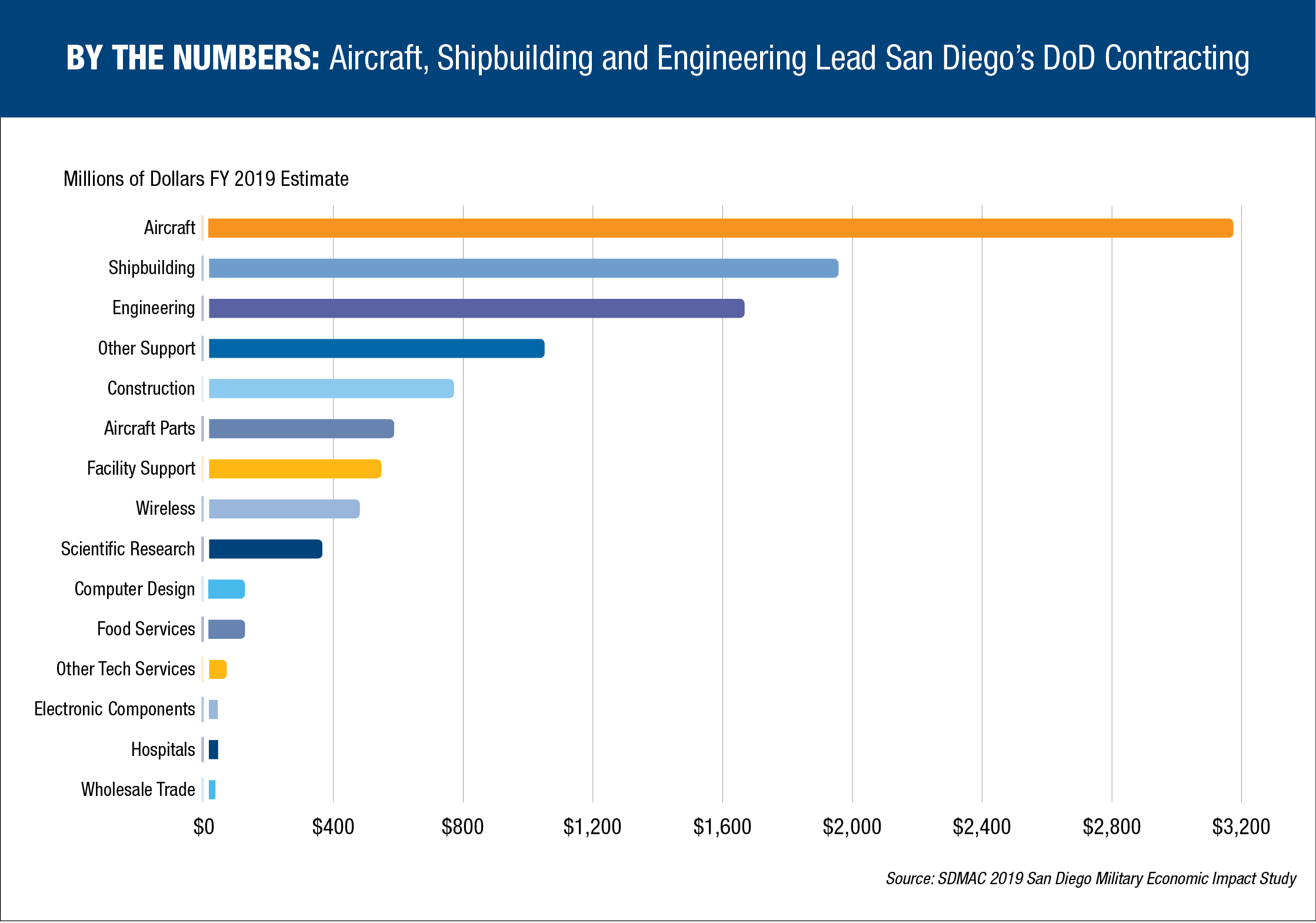 Procurement Includes Construction, Cereal
In addition to aircraft and ships, the military buys a multitude of items, including ship repair services, engineering services, construction services and materials, food service and electronics. Military procurement in San Diego stood at $9.7 billion in 2018 and rose to $10.3 billion in 2019. It is forecast to rise to $10.8 billion in 2020.
Defense contracts are usually not one-year efforts. "Spending on defense contracts can span a period of five years or even longer," the SDMAC study said. "R&D contracts typically are relatively short-term in nature, with much of the work completed within the first two years. Aircraft projects frequently see a peak of activity in the second year, while construction projects peak in the third year. For both of these industry contracts, sizable amounts of work continue into the two or three subsequent years following the peak."
San Diego is also experiencing the benefits of several military construction projects, including the $800 million campus for Navy SEALs at the base of the Silver Strand in Coronado. There is pier work at the 32nd Street naval base and there are new hangars for F-35 fighter aircraft at Marine Corps Air Station Miramar, Balmert said. Coming soon is the expected redevelopment of the NAVWAR campus in Old Town, which may double as a transit station for the community.
The SDMAC economic impact study was completed by a team at the Fermanian Business & Economic Institute at Point Loma Nazarene University. Lynn Reaser is the institute's chief economist.
Roughly two dozen corporations, local government agencies and business associations sponsor the study.