On Friday, September 27th, eMolecules celebrated the grand opening of its new headquarters overlooking Torrey Pines State Beach and the Pacific Ocean. CEO Niko Gubernator, PhD was joined by over 100
current and former employees, family, neighbors, customers, suppliers and guests for a fun and informal ribbon-cutting ceremony.
This move is the most recent milestone in a local business success story that is atypical for the San Diego life science industry. In an ultra-competitive market headlined by VC-fueled organizations, eMolecules has boot-strapped its way from its origins as a local garage startup to prominence as a true global player in the life science tools segment.
Humble Beginnings
eMolecules started in a Del Mar garage to fill a glaring hole in web search-engine technology: chemical searches simply weren't possible on the internet. eMolecules filled this gap by building the world's first and largest free-access database and search engine for chemical compounds. The eMolecules website quickly became the go-to place for chemists to find chemical data and availability information for their drug-discovery research.
In 2008, just as the recession was getting in full swing, an unexpected request arrived that changed the company forever. A San-Diego subsidiary of Novartis placed an order for a thousand chemical compounds, destined to be part of the fight against malaria. Sensing the potential, eMolecules quickly built a custom procurement system to handle the unique business and logistics needs of a chemical-procurement system. The company shifted from a search-engine business model to an A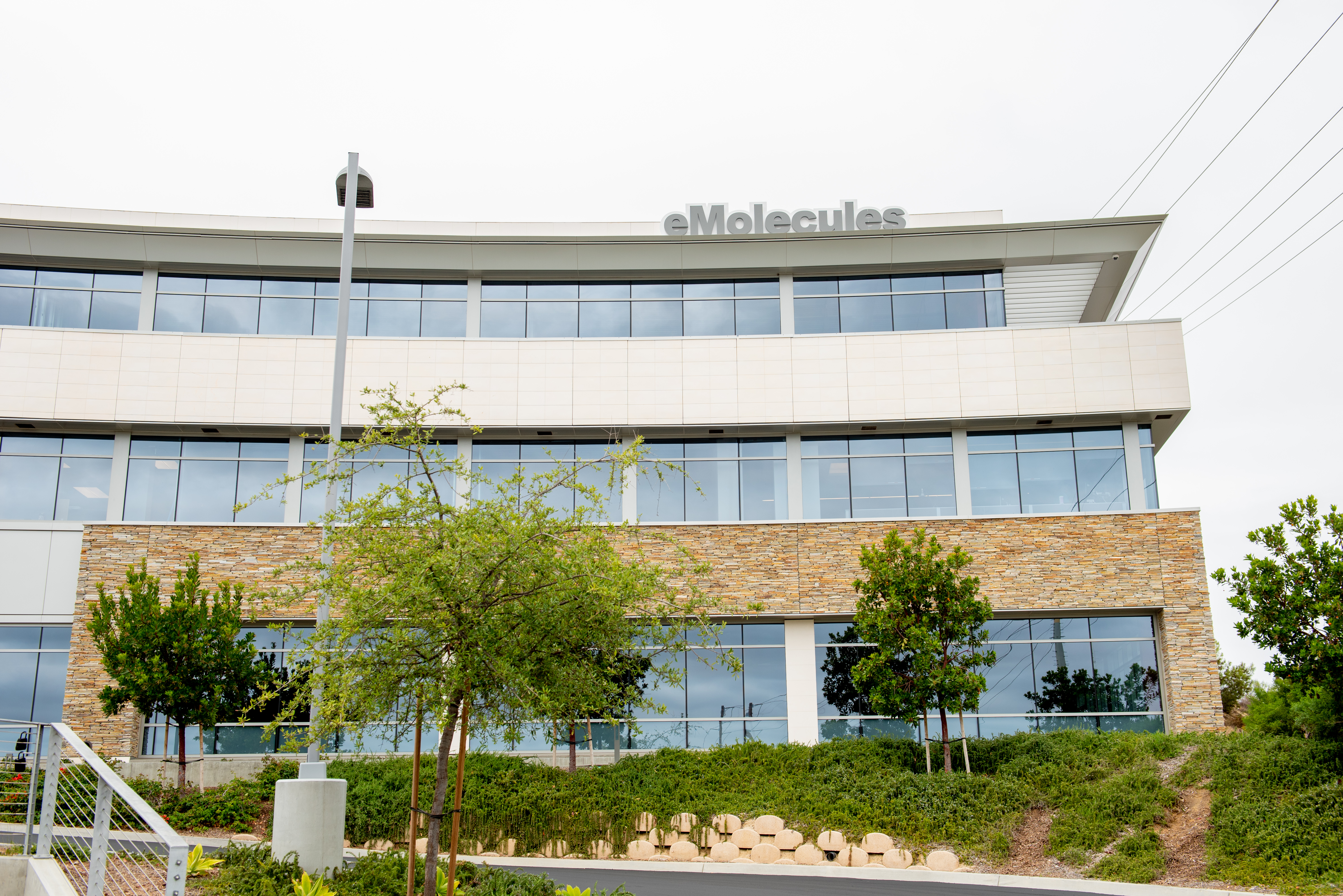 mazon-like business model. Using eMolecules unique web site, a pharmaceutical researcher can make a one-stop visit to find research chemical compounds from every major chemical supplier, as well as hundreds of niche specialty chemical suppliers from around the globe.
Within three years, the company's focus had expanded to encompass the entire chemical-procurement pipeline, from searching, purchasing, and Q/A, all the way through to domestic and international logistics. In 2015, eMolecules began to expand further into biological compounds, and now offers key biology product lines, including antibodies, proteins, and assay kits. eMolecules generates upwards of 100,000 shipments per year to a global customer base that includes virtually every major pharma and most biotech companies, as well as major academic and government institutions.
"A Great Place to Work"
The new headquarters, with its ultra-modern amenities and breathtaking views, is fitting for an organization that has had no trouble attracting world-class talent from near and far. eMolecules now counts industry stalwarts ex-VWR CEO Manuel Brocke-Benz and ex-Accelrys and current Mitek CEO Max Carnechhia as board members and has made several key additions to its management team in the past two years.
VP of Procurement, Paul Burke came over from Novartis in 2018, where he was Global Head of Discovery Procurement. On what prompted Paul to move his family across the country and leave his post at one of world's largest pharmaceutical companies for 40-person eMolecules, he shared "eMolecules provides the best of both worlds: I get the stability and top-notch corporate environment that I had grown accustomed to while working in Big Pharma, yet I also have the opportunity to put a measurable strategic fingerprint on the success of the organization – something that is somewhat unique to a small company"
Kemberlyn Wuerfel, VP of Strategic Partnerships, who joined the team in early 2018 after a successful career at Thermo Fisher Scientific added the following "It is important for me to feel that what I do on a day to day basis makes a difference. At eMolecules, I'm able to foster new approaches and processes that support growth but that also focus on the customer. I believe I have a direct impact on our customers and that I have flexibility in customizing support for their needs. We're able to navigate change quickly, get creative, and try new approaches without obsessing over risk. It's a great place to work"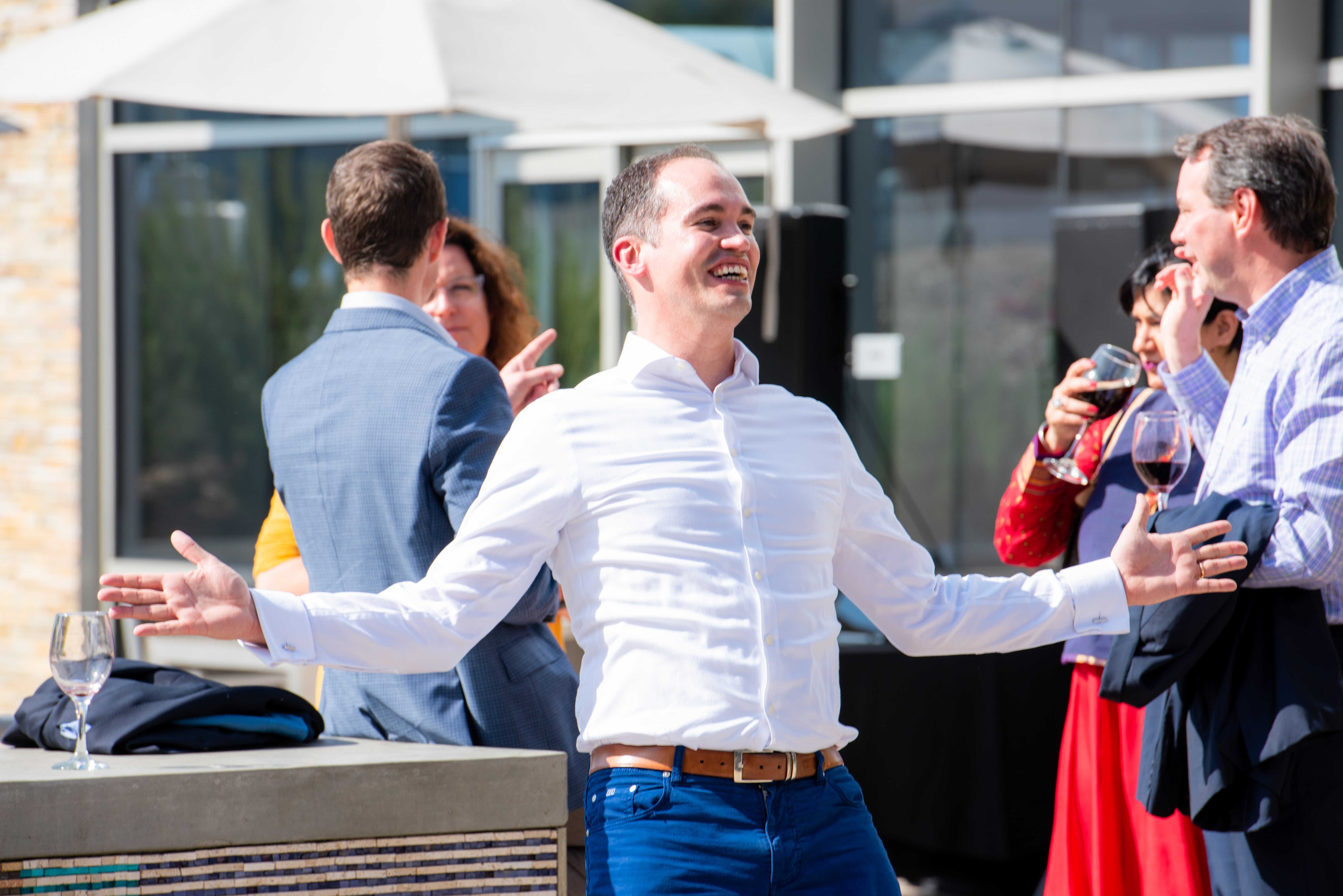 Focused on a Bright Future
Niko gave a brief speech before the ceremonial ribbon cutting in which he emphasized the importance of eMolecules' employees, as well as the company's dedication to the drug-discovery process. "You are the reason we got to this stage," he said, "and you will be the reason why we get to the next stage." He went on to remind employees that the very first purchase of 1,000 compounds by Novartis resulted in success: an anti-malaria drug that is now in stage-three trials. Currently, over 500,000 children die every year from malaria. He turned to his wife and three children, who had joined the celebration, and said he couldn't imagine how a family could suffer such a loss, and reminded everyone that their work is more than just business. Many of the drugs that have made it to the patient market in the past few years have in some way been facilitated by eMolecules' procurement services.
eMolecules would like to thank the many partners who helped make their move to its new office at Torrey Point successful, including Hughes Marino, American Assets Trust, Innovative Commercial Environments and Prevost Construction.