Marion Webb
Recent Stories
DEVELOPMENT: Jamie Awford Dives Into Latest Challenge, The $471M Airport Expansion
Twenty-year construction veteran Jamie Awford has the uncanny ability to attract complex and challenging projects other builders generally shy away from.
RETAIL: Holiday Promotions Begun in Earnest to Cash in on Rising Consumer Confidence
With many consumers remaining on tight budgets this holiday season, retailers will need to adjust their prices accordingly and offer them more value for less money.
EDUCATION: Aptitude Tests to Etiquette Lessons Foster Professional Development
A two-year pilot program at Cal State San Marcos seeks to prepare business majors for real-world challenges ahead.
GOVERNMENT: Also of Concern, System May Be Burdened By More Insured Patients
While health care reform legislation is taking shape in Congress, San Diego's hospitals and health care experts are contemplating how their systems could be affected.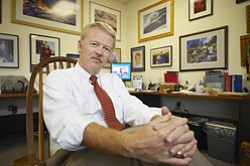 WORK FORCE: Clinic Opens in National City to Serve Rising Number of Patients
San Diego's double-digit unemployment rate and economic woes have put added strains on hospital emergency rooms and health centers.
Todd Wexler, president, NetResults Technology Group, Inc.
By San Diego Business Journal
November 14, 2005
Rodell Jackson, owner and director, Health Dimensions, LLC.
By San Diego Business Journal
November 7, 2005
Urban Miyares, a blind Vietnam veteran who's also a serial entrepreneur, has dedicated the last 20 years helping thousands of fellow disabled veterans find their way in the business world.
By San Diego Business Journal
October 31, 2005
David Hartman, president, Easy-Turf, Inc.
By San Diego Business Journal
October 31, 2005
Fresno-based marketing and communications firm Panagraph Inc. said it is opening a small office in Downtown San Diego to be closer to local clients and try to attract new ones.
By San Diego Business Journal
October 31, 2005