Photo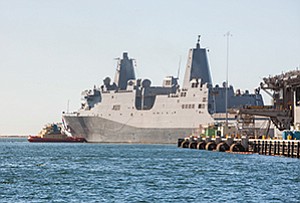 Fresh from the shipbuilder's yard, the future Navy ship Portland arrives in its new homeport of San Diego on Jan. 22. A brand new ship requires more than one visit to the shipyard to get in shape to fight. The Navy will commission the Portland in its namesake Oregon city in April.
Stories this photo appears in:
DEFENSE: More Work Expected; New Rules Open Up Bids for Some Jobs
More opportunity may be coming the way of defense contractors in the Port of San Diego.