Photo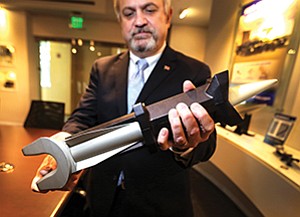 GA-EMS President Scott Forney holds a railgun projectile. The gray, missile-shaped projectile sits within a sabot, a black casing that guides it down the gun barrel and then falls away. The railgun is only part of the business at the lesser-known unit of General Atomics.
Stories this photo appears in:
DEFENSE: Solid Growth,Smart Acquisitions and Risk Taking All Part of Strategy
General Atomics Electromagnetic Systems has grown more than 500 percent in revenue and employee count over the last 10 years.