Photo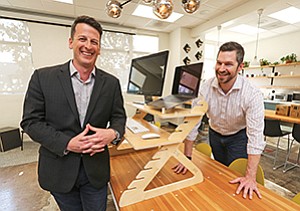 Readydesk co-founders Joe Nafziger (at left) and Ben Larson designed their desktop conversion unit for people who are interested in standing while they work. They have sold more than 8,000 units since launching the company in 2014.
Stories this photo appears in:
RETAIL: Standing Desk Aims to Be Well Designed Functional and Affordable
Standing desk setups are often associated with people in technology, but Readydesk's conversion unit is nearly as low-tech as they come.