Photo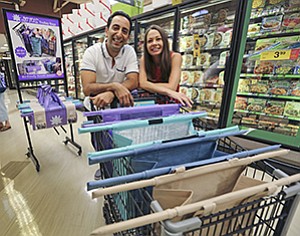 Farzan and Jen Dehmoubed, owners of Lotus Trolley Bag, in an aisle inside the Ralphs at 7140 Avenida Encinas in Carlsbad, displaying reusable grocery bags they created.
Stories this photo appears in:
RETAIL: Carlsbad Co. Among Winners From Ban on Plastic Bags
Some reusable bag makers in California were pleased when voters affirmed the state's single use plastic bags ban in November 2016, but hesitant to attribute their successes and steady revenue to the bill itself. However, Lotus Trolley Bag based in Carlsbad was inspired to start its business because of the law.