Photo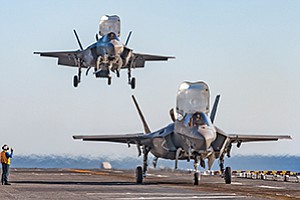 F-35B Lightning II aircraft operate on the USS America in November 2016. The aircraft has special equipment that lets it hover and land vertically. Photo courtesy of Lockheed Martin Corp.
Stories this photo appears in:
A new model of aircraft coming to U.S. Navy ships means work for San Diego's shipyards. The new aircraft is the F-35 Lightning II, also called the Joint Strike Fighter. One of its three versions is similar to the Harrier Jump Jet, in that it can land vertically and take off in a very short distance.