Photo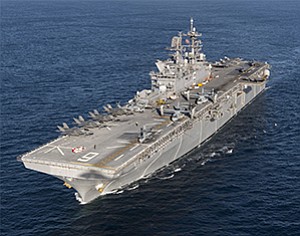 Amphibious assault ships look like scaled-down aircraft carriers. BAE Systems San Diego Ship Repair plans to modify the flight deck of the USS America to better accommodate the new F-35B Lightning II aircraft. Four of the new aircraft are visible at far left. Photo courtesy of Lockheed Martin Corp.
Stories this photo appears in:
A new model of aircraft coming to U.S. Navy ships means work for San Diego's shipyards. The new aircraft is the F-35 Lightning II, also called the Joint Strike Fighter. One of its three versions is similar to the Harrier Jump Jet, in that it can land vertically and take off in a very short distance.