Photo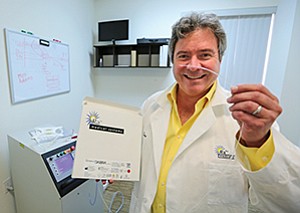 Ra Medical Systems CEO Dean Irwin in a file photo holds the company's Dabra system, a laser catheter to treat a disease known to lead to amputations. He recently expressed relief over the suspension of a medical device tax that threatened hiring plans.
Stories this photo appears in:
HEALTH CARE: Tax Said to Hurt Staffing, R&D Efforts at Cos.
While San Diego's medtech hub is cheering the recent suspension of a 2.3 percent excise tax on medical device makers, a full repeal remains the industry's ultimate goal.