Photo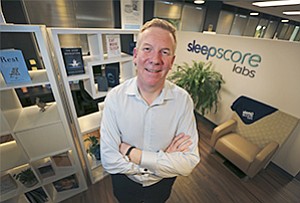 Colin Lawlor, CEO of SleepScore Labs, says the $60 billion sleep improvement market includes products that work and products that don't work. 'For the consumer it's like the Wild West,' he said.
Stories this photo appears in:
RETAIL: ResMed Sees Potential In Retail Sleep-Rating Device
ResMed's 2011 acquisition of an Irish company called BiancaMed led to a new company: SleepScore Labs of Carlsbad, formed in 2016.