Photo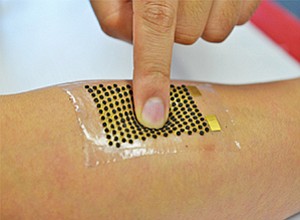 Photo courtesy of UC San Diego
Scientists are developing a sweat-to-energy system that could for a short time power a small light, a Bluetooth device or a wearable sensor.

Stories this photo appears in:
RESEARCH: Sweat May Run Wearable Devices; University Applies for Patent
Sweat is no longer the annoying byproduct of work, the thing that soaks a cotton shirt during vigorous exercise. It can be something more.