Photo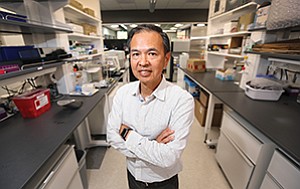 Explora Biolabs CEO Richard Lin at the company's Sorrento Valley headquarters. The company has five labs in San Diego and two in San Francisco for preclinical testing on mice and rats. Typically biotechs taking their drug before the FDA must first show how their treatment works in animals.
Stories this photo appears in:
BIOTECH: Challenges Are Big And Small in Testing on Animals
Explora Biolabs is part of San Diego's biotech cluster. But CEO Richard Lin likens the company to a hotel.