Photo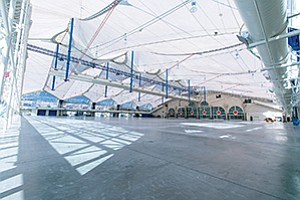 The work on the Sails Pavilion, bottom right, has also been a major undertaking. The concrete floor has been replaced, and the $11 million replacement of the fabric roof structure is next on the agenda. A possible expansion of the center, above right, is still being debated. Photo courtesy of the San Diego Convention Center Corp.
Stories this photo appears in:
PROPERTY: Sails Pavilion Floor Replaced; Work Set for Its Roof
The San Diego Convention Center is a hardworking building. Many sets of feet have trampled its carpets since it first opened in 1989.