Photo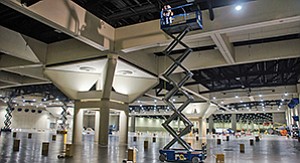 The fluorescent lights in the convention center exhibit halls (A-H), above, were replaced with LED lights, which changed the wattage to 240 watts per fixture from 385 watts. Photo courtesy of the San Diego Convention Center Corp.
Stories this photo appears in:
PROPERTY: Sails Pavilion Floor Replaced; Work Set for Its Roof
The San Diego Convention Center is a hardworking building. Many sets of feet have trampled its carpets since it first opened in 1989.