Photo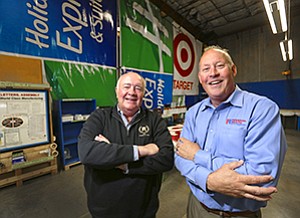 President and CEO Kevin Stotmeister left, and VP of Sales and Marketing Daniel Belling at Federal Heath Visual Communications stand in the Oceanside plant. The company does signs for businesses that have 200 locations or more. Digital signs make up 5 percent of the company's revenue, but that number is increasing.
Stories this photo appears in:
It Capitalizes on an Experienced Workforce, Lean, U.S. Manufacturing
There is an "Alice in Wonderland" quality to the Federal Heath Visual Communications factory on North Avenue in Oceanside. In this cavernous room, things are out of scale. Giant C shapes bent like macaroni pasta sit nearby; they will soon go together to form a complete circle emblem outside a Target Corp. discount store somewhere.