Photo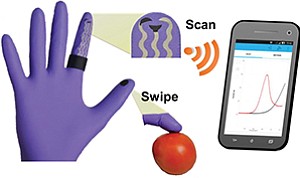 UC San Diego scientists created a lab on a glove. A wearer swipes the suspected surface (here a tomato) with a thumb, rubs the thumb against the index finger (which contains electrodes), and reads the test result on a smartphone. Illustration courtesy of American Chemical Society
Stories this photo appears in:
DEFENSE | The latest in defense industry news
The University of California, San Diego says it has developed a "lab on a glove" to detect sarin, VX and other deadly nerve agents. In addition to defense uses, the invention could be used in agriculture to detect a related family of organophosphate pesticides, according to the American Chemical Society. Joseph Wang, a professor of nanoengineering at UC San Diego's Jacobs School of Engineering, led a research group that published its findings recently in the journal ACS Sensors.