Photo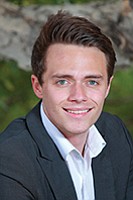 Luke Sophinos
Stories this photo appears in:
SOFTWARE: It Expands Learning Opportunities, Assists in Admin Tasks
It's been a busy two years for Luke Sophinos. The 21-year-old CEO has gotten a software business off to a very fast start. He has postponed his final coursework at San Diego State University. And he's attracted attention from the foundation run by internet entrepreneur Peter Thiel. The upshot? A two-year, $100,000 Thiel Fellowship to help him build his young business, CourseKey Inc.