Photo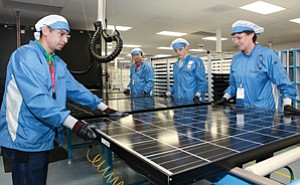 Luis Torres, Lito Sancianco, Chris Heinrich and Pearl Shedlock work on solar modules at Kyocera Solar. Companies involved in solar and wind energy have created jobs locally.
Stories this photo appears in:
ECONOMY: Region Getting Stronger Since Great Recession
Are we there yet? Our desired economic destination is a nice place with low unemployment, an abundance of jobs, an agreeable tax structure, and a good lending climate.