Photo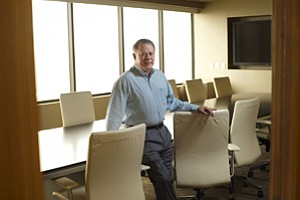 Gary West created the West Wireless Health Institute with his wife, Mary, to accelerate wireless technologies that can help the health care system run more efficiently and cost-effectively.
Stories this photo appears in:
TECHNOLOGY: Gary and Mary West Commit $90M to Medical Innovation
Everyone talks about spiraling health care costs. With the creation of the West Wireless Health Institute last year, Gary West moved well beyond the talking stage. By accelerating medical innovation and the availability of wireless health solutions, WWHI aims to transform health care delivery, make it more universally available and trim its bottom line.