Photo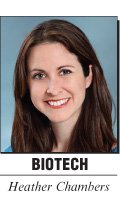 Stories this photo appears in:
A year after introducing its individual genome sequencing service, San Diego-based genetic analysis company Illumina Inc. has cut the cost by more than half.
As the U.S. Food and Drug Administration begins establishing processes for approving generic biotech drugs, companies such as Phage Pharmaceuticals Inc. are already beginning to put their manufacturing processes to the test.
A subsidiary of International Stem Cell Corp. of Oceanside has signed an agreement with Tokyo-based Veritas Corp. to begin selling its human cell culture products in Japan. The wholly owned subsidiary, Lifeline Cell Technology LLC, will begin distributing the products — everything from human cells to products to grow them — April 15.