SD SERVICES
Recent and archived news stories on: Accounting, Advertising, Consulting, Jobs, Food, Insurance, Law, Printing, Public Relations, Security...
RETAIL: Subscription Service Another Element Of Expanding Offerings
San Diego-based specialty retailer Petco Animal Supplies Inc. has acquired PupBox, a monthly subscription service that sends out bundles of toys, treats, tools and training guides to puppy owners.
Qualcomm Inc. co-founder Franklin Antonio has made a $30 million gift to UCSD.
SmithGroupJJR, an integrated design firm, has begun offering mechanical and electrical engineering services in-house at its San Diego, Los Angeles and San Francisco offices.
San Diego-based AbacusNext has acquired U.K.-based HotDocs.
RETAIL: They Focus On Customer Service, Create Community Feel
Say you were thinking of buying a new-to-market toy like the Zipes Speed Pipes Performance Pack, a hot item among the under-13 crowd. (The holidays are around the corner, after all.) Sure, this network of pipes that a toy car zips around at breakneck pace looks fun in YouTube videos.
By Chase Scheinbaum
November 9, 2017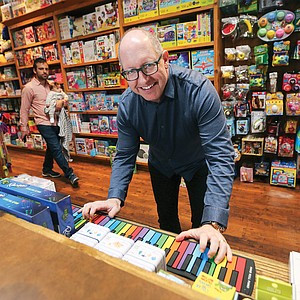 There are some amazing attorneys who will be honored Nov. 15 at the San Diego Business Journal's Business Women of the Year Awards. You should attend the event, which will be held this Wednesday, at the Hilton San Diego Bayfront, from 11:30 a.m., to 2 p.m.
By Randy Frisch
November 9, 2017
San Diego-based consumer advocacy law firm Haeggquist & Eck said it's bought the Cooper Law Firm in Irvine, an employee and consumer class action firm.
San Diego State University, University of San Diego, and Duane Morris LLP on Nov. 3 launched a joint program that will pair SDSU entrepreneurs with law students and attorneys.
San Diego County's largest locally based law firm has expanded to Nevada, the fourth state in which it has at least one office.
A new $244,000 grant will fund palliative care education for qualified Medi-Cal providers at the California State University Institute for Palliative Care in San Marcos.
Leidos Inc. said it received a prime contract from the Transportation Security Administration that could be worth as much as $17 million over five years.
Chicago-area food distributor KeHE Distributors LLC is closing the Monterrey Provision Co. distribution center in Otay Mesa and laying off 91 employees 18 months after acquiring the family-owned company.
San Diego-based Sempra Energy in quarter three results recorded higher earnings, though that's without taking into account potential costs related to the 2007 wildfires.
A new restaurant, Curadero, has opened in downtown San Diego's Kimpton Hotel Palomar as part of a renovation project.
Carlsbad-based Alphatec in preliminary quarter three results reported revenue of $22.8 to $23.1 million.
ICW Group Insurance Cos., a San Diego-based group of property and casualty carriers, has hired John Novak as chief operating and strategic execution officer.
Prev Next