SD REAL ESTATE
Recent and archived news stories on: Apartments, Architecture, Brokers, Construction, Housing, Mortgages, Offices, Property Management, Realtors...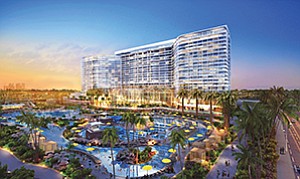 TOURISM: Chula Vista's $969M Plan May Change Tourism Map
After two decades of talk about developing Chula Vista's waterfront, officials have set the stage for a $969.3 million hotel project that could give San Diego County's second-largest city its first significant share of the region's tourism and convention dollars.
June 22, 2017 12:55 p.m. $$
Share
Another local tech startup is taking on the real estate industry, and this one's armed with $5 million in new cash.
June 27, 2017 4:06 p.m.
share »
RezList, a new San Diego-based residential real estate brokerage, has launched in San Diego and in San Francisco, the company said Monday.
June 27, 2017 9:55 a.m.
share »

The eating and drinking lineup in downtown's always-evolving Gaslamp Quarter is about to get a splashy new arrival, helmed by six veterans of San Diego's hospitality scene.
June 26, 2017 3:23 p.m.
share »

Affiliates of Palo Alto-based Pacific Urban Residential have acquired a 169-unit Mira Mesa apartment property for approximately $73 million, according to CoStar Group and public data.
June 23, 2017 11:20 a.m.
share »

A joint-venture affiliate of San Diego-based Coast Income Properties Inc. has acquired a medical office building in Carmel Valley for $28.5 million, according to CoStar Group and public data.
June 22, 2017 1:41 p.m.
share »

Glendora-based Armstrong Garden Centers recently opened its relocated store in San Diego's Morena neighborhood, now at 1364 Morena Blvd. after moving from 1350 W. Morena Blvd. Operators said the move was necessitated by changes in the neighborhood brought about by development of a new station as part of the Mid-Coast Trolley extension project. The garden supplies retailer operates 32 California stores, including seven in San Diego County.
June 22, 2017 1:23 p.m.
share »

Within the next six years, University of California, San Diego as it's now known to visitors could be looking very different. Construction should be getting in gear starting next summer for what's expected to be a major, long-range reconfiguration of the main campus in La Jolla.
June 22, 2017 1:19 p.m.
share »
Steve Rosetta, who most recently served as a San Diego-based vice chairman and Global Advisory Board member at brokerage firm Cushman & Wakefield, has joined Kilroy Realty Corp. as executive vice president and chief investment officer.
June 21, 2017 4:24 p.m.
share »

An affiliate of San Diego-based MG Properties Group has acquired the 410-unit Alexan Melrose apartment community in Vista for $134 million, according to CoStar Group and brokerage firm Holliday Fenoglio Fowler LP (HFF).
June 21, 2017 11:44 a.m.
share »
Port district and Chula Vista city leaders have approved a resolution calling for the development of a $969.3 million, 1,450-room convention hotel project, deemed the lynchpin for long-sought commercial development of the Chula Vista bayfront.
June 20, 2017 4:56 p.m.
share »

Encinitas-based SJR Real Estate Holdings LLC has acquired a two-building Oceanside apartment property totaling 11 units for $3.7 million, according to brokerage firm Palma Commercial.
June 20, 2017 2:56 p.m.
share »
San Diego City Council has voted 5-4 to defer the proposed SoccerCity mixed-use development to the November 2018 general election, despite pleadings from project supporters that a vote was needed this year in order to meet timelines for delivering a pro soccer franchise to the city.
June 20, 2017 10:37 a.m.
share »

The family-friendly town of Ramona in the heart of San Diego County is well-known for its miles of hiking, biking and equestrian trails. But in the past decade or so, Ramona has also established itself as a destination for wine lovers.
June 19, 2017 3:46 p.m.
share »

When it comes to industry clout, San Diego ranks No. 9 among the top 25 U.S. "Tech Cities." Brokerage firm Cushman & Wakefield's inaugural tracking report on the sector is based on factors such as real estate and housing costs, educated workforce, capital availability and job growth prospects.
June 19, 2017 3:35 p.m.
share »

Investor Brittanya McCall Razavi of Los Angeles is the new owner of the historic Heritage Square retail center in downtown Fallbrook, after acquiring the property at 507 S. Main Ave. and 110-122 W. Beech St. for approximately $1.37 million. According to Lee & Associates, whose brokers Al Apuzzo, Patrick Miller and Matt Weaver represented seller Heritage Square Investments, the buyer plans to hold the 7,884-square-foot property for future development.
June 19, 2017 3:34 p.m.
share »