Viasat Inc. said on Oct. 3 that a major investor, the Baupost Group LLC, will get a presence on its board as a non-voting observer. As of Oct. 4, Baupost had an $861 million stake in the Carlsbad company.
Acadia Pharmaceuticals is flying higher after the U.S. Food and Drug Administration reaffirmed its drug in uncharacteristically public fashion.
ENERGY: Co. to Serve Other Customers; It May Hurt Facility Construction
The Chinese government's new schedule of tariffs should be no concern for San Diego's Sempra Energy, according to at least one industry analyst.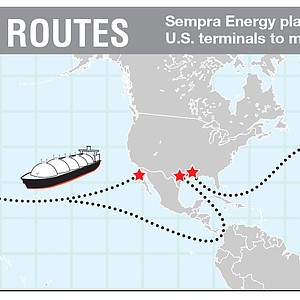 Everyone Counts, an electronic voting registration company, was acquired by an Ohio company that specializes in mobile and blockchain voting.
Judge Thomas Pender issued his final determination on Sept. 28, stating that banning the import of iPhones would be against the public interest.
NASA has awarded General Atomics a $38.5 million contract to host a NASA instrument on a GA Electromagnetic Systems Group satellite, which is scheduled for launch in 2022.
Participants include small- and mid-sized companies in a variety of sectors, including biotech, defense, manufacturing and consumer goods. To date, 45 companies have participated in the program, generating $15 million in new export sales.
Sempra Energy has agreed to sell its U.S. non-utility solar energy generation assets, one wind facility and certain battery storage facilities to Consolidated Edison Inc. for $1.54 billion in cash.
BREWING: Canning Co. Adds Sleeves to Its Services
When Matt Woempner wanted a change in career from the high-tech world a few years ago, he didn't turn to his financial advisor. Instead, he tapped a couple of buddies from his soccer team for guidance.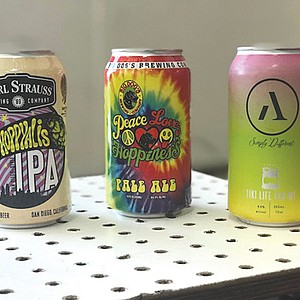 RETAIL: Co. Branches Out, While Sticking With Plan for Sustainable Brand
Fashion brands have always tried to harness the California lifestyle, but very few actually live it.
By Brett Hershman
September 19, 2018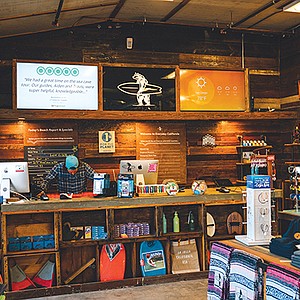 Sempra Energy has signed a deal with activist investors Elliott Management Corp. and Bluescape Energy Partners LLC, agreeing to seat two new board members among other provisions.
The board of directors at Sempra Energy has named CEO Jeffrey Martin chairman, effective Dec. 1.
Sempra Energy's board of directors declared quarterly dividends for three classes of stock on Sept. 6.
A New York investment management firm has pledged $65 million to a new venture with UC San Diego to bridge the divide between basic research and clinical trials.
A former truck repair lot next to an unassuming three-bedroom on a backstreet in El Cajon has been transformed into a testing site for a two and a half foot tall, ATV-like robot that thanks to a pair of front-facing lights brings to mind the lovable Pixar character Wall-e.