Northrop Grumman Corp. is looking into whether its unmanned Global Hawk aircraft could carry a potent laser able to destroy an enemy missile during its boost phase — the initial part of the missile's flight.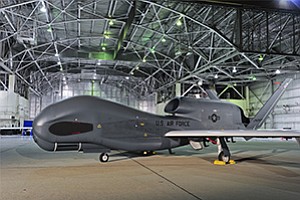 Kratos Defense and Security Solutions Inc. recently received $2.2 million in contract awards for one of its newest jet-powered unmanned aircraft projects, the business said on Aug. 31.
San Diego-based Epsilon Systems Solutions Inc. received a one-year, $17 million contract modification from the U.S. Navy in an award set aside for small businesses.
The U.S. Navy's Point Loma lab has promoted Bill Bonwit to executive director.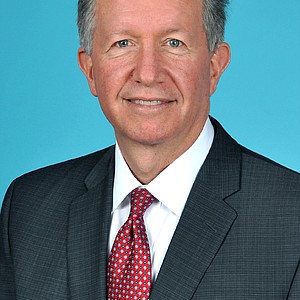 The U.S. Special Operations Command awarded a five-year contract for specialized radios to Rancho Bernardo-based TrellisWare Technologies Inc.
The UC San Diego Center for Peace and Security Studies (cPASS), launched in 2016 by social scientist and foreign policy expert Erik Gartzke, has received a $3.32 million grant from the Charles Koch Foundation.
The Navy is pushing the envelope with Northrop Grumman Corp.'s remotely piloted Fire Scout unmanned helicopter, which the Navy is deploying aboard its Littoral Combat Ships (there are two Fire Scouts on the San Diego-based USS Coronado). Northrop (NYSE: NOC) manages the Fire Scout program in Rancho Bernardo.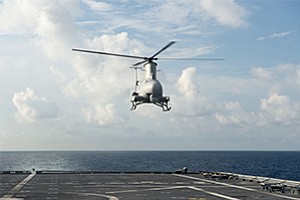 The Pentagon's acting chief information officer, John Zangardi, was in San Diego last week to tour eight San Diego tech companies. More than 20 senior military, government and international leaders in information warfare also participated in the tour Aug. 14-15.
The recently commissioned aircraft carrier USS Gerald R. Ford trapped and then catapulted its first aircraft using next-generation "digital" systems designed and built by San Diego-based General Atomics Electromagnetic Systems. The events took place July 28 in the Atlantic Ocean near Virginia.
Herman Construction Group Inc., a small business based in Escondido, recently received a $9.4 million contract modification to design and build a structure at Vandenberg Air Force Base in Santa Barbara County.
The U.S. Navy awarded Soltek Pacific Construction Co. a task order to design and build the Special Operations Forces Human Performance Training Center at Naval Base Coronado — part of the 10-year plan to build an $800 million campus for the Navy SEALs.
The U.S. Navy cleared the way for ViaSat Inc. to produce more software-defined radios called MIDS JTRS, and sustain those electronics. The development could be worth more than $100 million to ViaSat (Nasdaq: VSAT).
Amid escalating tensions between the U.S. and North Korea, a San Diego defense contractor is asserting that remotely piloted aircraft such as the ones it manufactures might have a role to play in missile defense.
The government of Saudi Arabia awarded San Diego-based Kratos Defense & Security Solutions Inc. up to $46.2 million worth of business over the next four years.
Cubic Corp. reported a net loss of $22.0 million on sales of $361.9 million for its third quarter, which ended June 30.