SDBJ Insider: A Community of Support
Sunday, May 31, 2020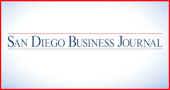 San Diego's USL Championship USSF-sanctioned professional soccer club, San Diego Loyal, has raised $75,000 for the Rady Children's Hospital COVID-19 efforts. It is being matched by The Conrad Prebys Foundation COVID-19 Response Challenge. This brings the total to $150,000.
"We are proud to see the outpouring of support from our fans and the community, who along with our team, stepped up during this unprecedented time to raise funds for Rady Children's as they continue to be a leader on the forefront of childhood healthcare,' said SD Loyal President Warren Smith. The team doubled its original goal of $30,000 through social media-fueled challenges..
The donations will be used to help fund the health system's ability to create critically needed 3D –printed nasal swabs, protective face shields and other in demand materials.
Considering the team was only able to play its one inaugural match on March 7 before COVID-19 restrictions postponed the rest of their season, the fan following that helped the team accomplish this is pretty amazing.
•••
Several members of the local entrepreneurial group PEERS Network donated blood last week at the San Diego Blood Bank headquarters. The group also donated a check for $10,000 to the blood bank to help support emergency preparedness.
PEERS Network was established in 2009 to bring entrepreneurs and executives from across a variety of industries together with a common goal – giving back to the community. Their members include a variety of business and community leaders in San Diego.
PEERS member Tim Callan was diagnosed positive with COVID-19 in March. Since his recovery, Callan has donated his convalescent plasma to help others with the virus. He also again gave plasma this past week.
Local hospitals are now beginning to see more patients, so the Blood Bank is seeing the demand for blood rise. The San Diego Blood Bank's traditional way of collecting blood through its bloodmobiles has not been available since so many business and community groups are not able to host any of these events because of the lockdown and safety regulations.
"These are unprecedented times and the San Diego Blood Bank needs community support. Demand is far outpacing supply," PEERS President Masud Sarwary said.
To make an appointment or for more information visit www.SanDiegoBloodBank.org. Donors must be 17 years old, be in good health, and weigh a minimum of 114 pounds. Financial donations are also needed.
•••
At the end of the month, the San Diego Business Journal will be honoring 50 local senior level executives and owners from businesses and organizations who have been making a difference during the COVID-19 pandemic. We will be recognizing leaders in our community who have exceptionally led their companies through these very unprecedented times. Called The SD 50, the SDBJ will be accepting nominations on our website www.sdbj.com until June 9. The special edition will appear in our June 29 weekly issue.
If you know of a senior executive or business owner who should be nominated, we welcome you to fill out the application form on our website.
It is an honor for us to recognize those in our community who have done so much above and beyond during these trying times.