TRAVEL: WRANGLING LUGGAGE IS NO LONGER A SIDE BUSINESS FOR CRYSTAL BROWNING
Entrepreneur Discovers a Need for a Baggage Nanny
Monday, September 23, 2019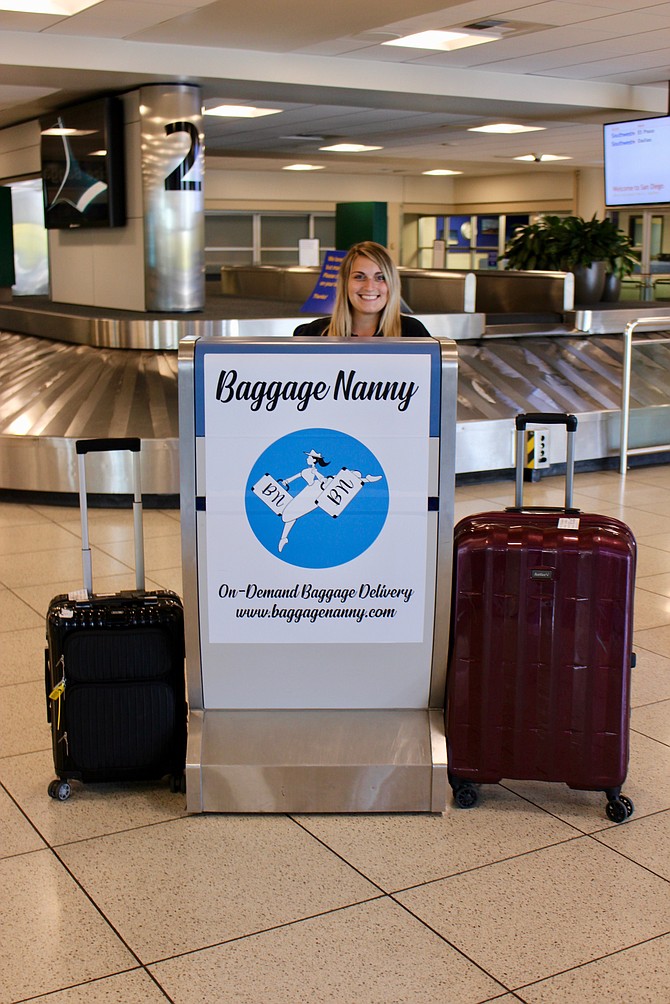 San Diego International Airport has launched a baggage pickup, storage and delivery service.
Located at a staffed kiosk in Terminal 1 next to the baggage claim turnstiles, Baggage Nanny LLC is a first-of-its-kind, on-demand concierge service that aims to further accommodate travelers' cargo needs, according to its founder and CEO.
"Baggage Nanny came from my background in the vacation rental industry," said Crystal Browning, who launched the company in 2018 as a brick-and-mortar and on Aug. 14 at the airport. She ran her own cleaning company called Clean as a Whistle for five years through which she offered additional concierge services such as a stocked fridge or a manicure. "One question we got consistently from customers was … for storage options for their bags … if they were flying in early and check-in was at 4 p.m. or flying out late in the evening."
Browning first launched Baggage Nanny as an additional concierge service through Clean as a Whistle, but after seeing the high demand for it, opened a storefront in Little Italy last year. Encouraged by SAN after approaching them for a permit to operate at the airport, she joined its Innovation Lab and, after graduating, was able to launch the service there this summer.

Browning said, so far, Baggage Nanny averages 10 to 25 bags a day. It costs $20 per bag no matter the weight, and, since last month, the company's revenue has grown 48%. The goal is to get to 100 bags a day per terminal by the end of the year, said Browning, as well as five airports by the second quarter of next year.
Getting Checked
Baggage Nanny helps travelers that arrive to their destination before their check-in time or depart later than their check-out. Using a mobile-friendly website, users can drop off their bags at a designated terminal kiosk and, once ready to check-in, the company can drop off their bags to them. Baggage Nanny can also pick up bags and store them at a requested terminal for travelers ahead of their departure time, according to Browning, who adds that the company has full insurance, identity verification, numbered security tags and tamper-proof seals. Baggage Nanny follows federal guidelines like the ones used for anything shipped via snail mail, including no hazardous materials or weapons, said Browning. She said all Baggage Nanny customers have to confirm they have read and acknowledged all of the company's terms and conditions prior to receiving service.
Prev Next