Capping Off An Unusual Pact, GlaxoSmithKline Buys Sitari Pharmaceuticals
Tuesday, September 10, 2019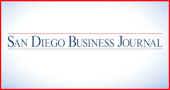 GlaxoSmithKline announced it will acquire San Diego's Sitari Pharmaceuticals – a deal induced by an unusual pact.
Sitara was the first startup formed under a joint venture between San Diego-based Avalon Ventures and GlaxoSmithKline to kick-start drug development. Acquisition terms weren't disclosed.
One of the largest pharmaceuticals, GlaxoSmithKline brought research-and-development know-how and access to its technology, in exchange for first dibs to buy startups.
The agreement covered eight companies, but GlaxoSmithKline only agreed to buy Sitari, which has a preclinical program for celiac disease.
GlaxoSmithKline passed on four other startups that are in the process of either being financed or acquired by others. The pharmaceutical and Avalon mutually decided to cease funding three of the companies.
That's according to Jay Lichter, the CEO of Sitari and managing director of Avalon Ventures. He called the partnership – which won't generate additional investments -- a success.
"What I can say is it worked pretty much according to plan," Lichter told the San Diego Business Journal. "And we're getting a venture return on our investment."
Inked in 2013, the deal called for Avalon to contribute $30 million in funding, while GlaxoSmithKline pledged as much as $465 million in seed funding and payments for hitting various milestones.

How much GlaxoSmithKline ultimately invested wasn't disclosed.
The arrangement marked another dimension in big pharma outsourcing innovation. Pharmaceuticals commonly buy or invest in biotechs. But this appeared to be the first time a venture firm and pharmaceutical actively incubated biotech startups, with financial terms decided up front.

Lichter said Sitari's preclinical asset generated compelling data. It's designed to inhibit an inflammatory cascade that ensues when those with celiac disease consume gluten in wheat, rye and barley.
These immune system attacks can trigger diarrhea and abdominal pain – or longer term lead to disorders like Type 1 diabetes. Lichter said the program is about a year away from an investigational new drug application, a hurdle that must be cleared to start clinical trials.
Lichter said Sitari's six employees – himself included – will go on to other ventures at COI Pharmaceuticals, an incubator that houses Avalon portfolio companies.