Connect Names Finalists for Most Innovative Products Awards
Tuesday, October 8, 2019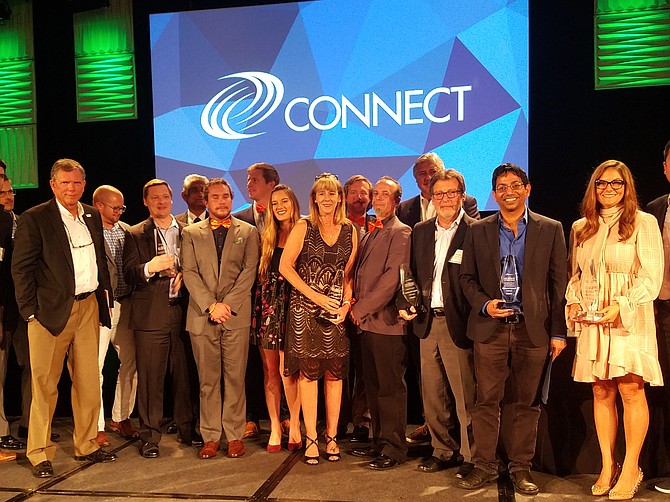 Defense Finalists:
CP Technologies: CP Technologies' MTP rugged portable trifold computers are module, high-performance computers designed for use in challenging real-world military, industrial and commercial applications.

CUBIC: Cubic's Secure Live Virtual Constructive (LVC) Advanced Training Environment (SLATE) adds simulated aircraft and threats to the live aircraft and threats in U.S. fighter displays to increase the enemy density during training missions.
Innoflight: KI-103 from Innoflight is a satellite encryption/decryption unit that allows for U.S. Government data to be securely communicated from a satellite to the ground station, and vice versa.
Life Sciences & Healthtech Finalists:
Cardea Bio: The Genome Sensor is the world's first DNA Search Engine that can find genetic mutations in as little as fifteen minutes.
Leo Lens Technology: Leo Lens Technology (LLT) is focused on using its platform-printing technology to commercialize a contact lens that can deliver drugs topically to patients, instead of eye drops.

LunaPBC: LunaDNA is a platform where users can share de-identified health information in a secure environment. Users have control of their health data and can shares in the company for sharing it.
Medical Device Finalists:
IRRAS: IRRAflow is a medical device that can change how the most severe stroke patients are treated. IRRAflow combines brain pressure measurement and necessary fluid drainage that reduces swelling with automated irrigation that enhances drainage of deadly collected blood.
NeuraLace Medical: NeuraLace Medical is developing a non-invasive, non-opioid treatment for patients suffering from chronic peripheral neuropathic pain. NeuraLace's device uses magnetic therapy to provide immediate and sustained pain relief for patients.
NuVasive: LessRay is a hospital operating room smart imaging platform that's shown to reduce radiation exposure by 75% and enhance workflow. The platform integrates with traditional, mobile C-arm imaging systems used to obtain X-ray (fluoroscopic) images during surgery while reducing the amount of radiation emission associated with taking low-dose fluoroscopic images.
Smart City & Transportation Finalists:
CUBIC: Cubic's Monolithic D-Band Antenna for Ultra High Bandwidth Data Transmission (D-Band) enables wireless, ultra-high data rate networks in urban environments.
Platform Science: Platform Science is an enterprise Internet of Things (IoT) open platform for fleet management. It connects the vehicles, devices and apps for smart transportation using a combination of hardware and software solutions.
Airspace Technologies: Airspace Technologies' platform provides logistics companies automatic quoting, routing, and real-time notifications. The platform is built on an ecosystem of applications to keep all stakeholders up to date.
Software Finalists:
GoSite: GoSite's platform provides a variety of software solutions to small businesses. The tools are designed to help a small businesses market themselves, manage their business, and ultimately get paid by their customers.
Seismic: Seismic HomePage is a situationally aware homepage that spotlights relevant information for each individual seller and recommends next steps based on what is likely to help them engage their unique set of buyers.
Yembo: Yembo is building AI technology to make the moving process easier. Yembo's computer vision technology can inventory the items in a room that need to be moved, providing a quote from moving companies within minutes.
Prev Next