HOUSING: RARE AFFORDABILITY, VARIETY OFFERED AT HUGE LONG-TERM PROJECT
Development Puts Otay Ranch on the Map
Thursday, May 30, 2019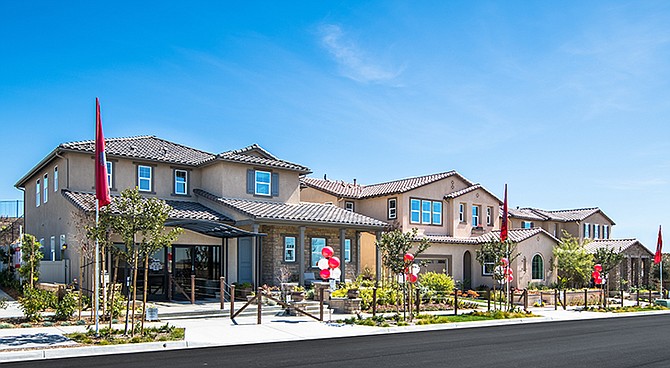 Eventually 39,476 Residential Units
By itself, that section of Otay Ranch covers 9,449 acres that will ultimately have a population projected to be 98,880 and 34,508 housing units in a mix of single-family homes, townhomes, condominiums and apartments.
There are two other sections that are still undeveloped land in the planning stages.
When finished, the entire Otay Ranch will have a population of 113,765 in 39,476 residential units over 22,899 acres of land, 13,722 acres of which will be open space, said Maria Miller, project manager for Baldwin & Sons.
Development Began in 1999
Development of Otay Ranch started in 1999 along Telegraph Canyon Road, and worked its way south.
The overall master plan for Otay Ranch divided the area into 14 villages, and each of which has its own plan.
The villages are being developed by three companies — Baldwin & Sons, HomeFed Corp. and Meridian Development.
The developers in turn have sold portions of each village to homebuilders, who do the actual home construction and construction of retail projects within Otay Ranch.
They are Heritage Building & Development, Pacific Coast Communities, Sunrise Co., Cornerstone Communities, Lennar Homes, Shea Homes, Brookfield Residential and KB Home.
Recession Lingered
Otay Ranch was hit hard by the recession and accompanying housing crisis.
"People were getting foreclosed while we were trying to sell," said Melissa Hazlett, vice president of sales and marketing for Baldwin & Sons.
Steve Baldwin said the housing crisis hit Otay Ranch early and lingered.
"We started to see the slowdown where we started having to give away incentives in 2005. When it started, they didn't really call it the recession, but we saw sales just drop," Baldwin said. "We saw prices go down maybe 40 to 50%. In about 2011, we were almost the only ones in the market."
Sales stared to pick up in 2013, Hazlett said.
Since the recession, builders in Otay Ranch adjusted what they offered to meet changes in what buyers sought and to provide housing they could afford.
Multigenerational Living
"We're doing a lot of product for multigenerational living," Baldwin said.
For instance Baldwin said some single-family homes are being built with three-car garages with tandem parking in part of the garage to have space that can be converted into an office or granny flat.
Affordability was cited as "a big draw" for Otay Ranch by John Burns Real Estate Consulting.
"We kind of have something for everybody," said Nick Lee, senior vice president of Baldwin & Sons.